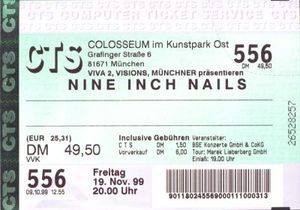 The live performance on November 19th, 1999 took place at the Colosseum in Munich, Germany. Atari Teenage Riot opened for Nine Inch Nails. This was the third show on the Fragility v1.0 tour.
Notes
After "March of the Pigs," Reznor had this to say:
"I've missed you, pigs. You fucking pigs."

Before the last song, he said:
"I want to thank you for being a great fucking audience, thank you very, very fucking much. 
[This is] our last song and this is our favorite song we've ever written."

Line-Up
Setlist