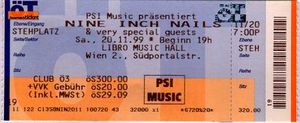 The live performance on November 20th, 1999 took place at the Libro Music Hall in Vienna, Austria. Atari Teenage Riot opened for Nine Inch Nails. This was the fourth show on the Fragility v1.0 tour.
Notes
This show included the first performance of "Please."
Before the encore, Reznor said:
"Thank you. We've been away and I've been hiding for a long time, and it's audiences like you 
guys that make it very nice to be back. Thank you. We're going to play some of our favorite 
songs for you."

Line-Up
Setlist
"The New Flesh" / "Pinion"
"Sin"
"Piggy"
"Gave Up"
"La Mer"
"Wish"
"Head Like A Hole"
~encore~
"Please"
"Closer"
"Hurt"
Bootlegs
This show was named "Underneath The Skin" by a bootlegger called Guffler that recorded the concert.