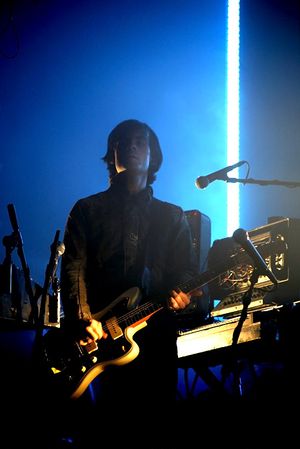 Instruments:Keyboards, Guitar, Bass, Backing Vocals, Programming
Active:2005-2008, 2013-
Alessandro Cortini (born May 24, 1976, in Bologna, Italy) was the keyboardist during live performances by Nine Inch Nails from 2005 through 2008. He also occasionally plays guitar, for example, on "Getting Smaller," "Mr. Self Destruct," and "Echoplex."
Cortini returned as a touring member of Nine Inch Nails starting with their 2013-2014 tour and also served as an opening act for the NIN 2014 Japan Tour. He has also been part of the How To Destroy Angels live lineup, contributing bass, synthesizers and vocals. On November 7, 2020, Cortini and NIN were inducted into the Rock And Roll Hall Of Fame.
Biography
Cortini was born in the Italian city of Bologna and raised in Forlì. Sometime around 1998, Cortini moved to the United States to study guitar at the Musicians Institute, where he met Swedish guitarist Pelle Hillström. After graduating he began focusing on keyboards and synths.
While briefly teaching at the Musicians Institute, he saw an ad for open auditions for Nine Inch Nails; after impressing Trent Reznor in his audition, he was brought on board to form the live band for the 2005 Live: With Teeth tour and has been a member of the band ever since. On December 13th, 2008, Cortini posted a blog on Modwheelmood's MySpace account stating that he is leaving the band and that the other members had known of his decision for some time. Cortini has shared songwriting credits with Reznor for several songs on Ghosts I-IV and "The Eater Of Dreams". He appears in the NIN music videos for "The Hand That Feeds" and "Survivalism". In 2017, he appeared as part of Nine Inch Nails (in this case consisting of Trent Reznor, Robin Finck, Mariqueen Maandig, Atticus Ross, Cortini and Joey Castillo of Queens Of The Stone Age) in an episode of the reboot of Twin Peaks.
Cortini is also the frontman of Los Angeles-area band modwheelmood, which he leads with Hillstrom. The band is signed to fellow NIN bandmate Aaron North and Travis Keller's record label, Buddyhead. Prior to forming modwheelmood, Cortini acted as touring guitarist for The Mayfield Four.
In 2010, Alessandro started his solo-project called SONOIO (from "sono io", which is the Italian for "it's me"). Its first album, Blue, was released in 2010 and was followed by a remix album. The second album, Red, was released in 2011 and again followed by a remix album. Alessandro composed music using a Buchla Music Easel in late 2012 and released the material through Important Records in 2013. Forse, meaning "maybe" In Italian, is a series of three double LP releases followed by a CD box set containing all three volumes. Cortini currently resides in the Los Angeles area with his dog and three cats.
Trent Reznor on hiring Cortini
My first thought when Alessandro walked in was that he didn't look like what I had in mind. His presence was intense but gentle, not the "I'm gonna attack you" energy fans might associate with NIN. Then he started, and within 30 seconds I was like, "That's the guy!" I never once regretted it. Without taking anything away from Charlie, Alessandro is really into playing the studio parts as much as humanly possible. [1]
Body of Work
Alessandro Cortini
MNR002 (7", 2012)
Forse 1 (LP, 2013)
Forse 2 (LP, 2013)
Sonno (LP, 2014)
Forse 3 (LP, 2015)
Risveglio (LP, 2015)
Avanti (LP, 2017)
Volume Massimo (LP, 2019)
Emosfere (LP, 2020)
Prime Cose (LP, 2020)
Memorie I (EP, 2020)
Memorie II (EP, 2020)
Movimento (LP, 2020)
Ritmo (EP, 2020)
Ritmo II (EP, 2020)
Ritmo III (EP, 2021)
Ritmo IV (EP, 2021)
Scuro Chiaro (LP, 2021)
Alessandro Cortini & Merzbow
Alessandro Cortini & Merzbow (LP, 2017)
Illusion of Time (LP, 2020)
Blindoldfreak
How To Destroy Angels
Ladytron
Velocifero - collaboration & production (EP, 2008)
Modwheelmood
? (2003)
Enemies & Immigrants (2006)
Things Will Change (2007) - Remixes of Enemies & Immigrants
Pearls to Pigs, Vol. 1 (EP, 2007)
Pearls to Pigs, Vol. 2 (EP, 2008)
Pearls to Pigs, Vol. 3 (EP, 2008)
Pearls to Pigs (2009)
Nine Inch Nails
SONOIO
Blue (2010)
Non Blue (2010)
Red (2011)
Non Red (2011)
Scientist (limited edition 7" vinyl single, 2011)
Fine (2018)
Yoav
Films
Righteous Kill (2008)
Tropic Thunder (2008)
No. 3 The Beekeeper (short film, 2012)
Remixes
External Links