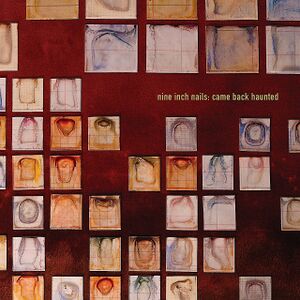 Came Back Haunted is a single that was released on June 6, 2013, as a digital download only, through nin.com[1]. A two-track promotional CD acetate was also released. No Halo number was assigned to this release, making it one of the only commercially-available Nine Inch Nails releases, along with the Capital G and Into The Void singles, with that distinction. This single marks NIN's very first release on Columbia Records.
Artwork
The artwork for this single was created by Russell Mills, whose art was previously used for The Downward Spiral and its accompanying singles, as well as Further Down The Spiral and Closure. The artwork for the promo CD is the same as the digital release.
Tracklisting
"Came Back Haunted" - 5:17
Tracklisting for 2-track CD promo version
"Came Back Haunted" (Radio Edit) - 3:56
"Came Back Haunted" - 5:17
Formats
Came Back Haunted is available with pre-orders of Hesitation Marks as MP3 (16bit/44.1kHz, ~319 kb/s VBR) or high-resolution lossless formats ALAC (24/48), FLAC or WAV (both 24/96).
Album Credits