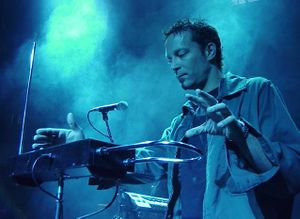 Instruments:
Keyboards, Programming, Backing Vocals, Theremin, Drums
Charles Alexander Clouser (born June 28, 1963 in Hanover, New Hampshire) is a former Nine Inch Nails band member whose activities included playing drums and keyboard, engineering, mixing and music programming.
Career
Clouser was originally hired by Trent Reznor in the early nineties as a studio programmer. In an interview with Loudwire[1], he explains further:
I think what first sucked me into Trent's world was, at the time, this would have been about '92 when I started working with him and at the time, I was doing a lot of drum and synth programming for hard rock/industrial acts like Prong and White Zombie and things like that. Originally, the first thing I did for Trent was programming drum reinforcements on Marilyn Manson's first record. He was busy with three or four things at once, preparing for a tour, finishing the Downward Spiral album. And, Manson had recorded their basic tracks for their first album and Trent thought the drum needed to be beefed up. So I, being a sampler jockey and sequencer wiz, was brought in to just, not to create anything new, but just to stack and add fatness behind the basic tracks for Manson's first album. And, he allocated "X" amount of days or weeks or whatever it was for me to do that and I finished it a lot quicker than he thought and then he started saying, "Hmm, this guy is a wiz with some of this program stuff. Maybe we should bring him into the loop."
Clouser was a member of NIN from 1994-2000 and was part of the live band on the Self Destruct and Fragility tours, as well as collaborating with Reznor in the studio on various projects. One such collaboration being the Natural Born Killers soundtrack on which he aided in recording and producing a new version of "Something I Can Never Have." His work can also be heard on releases such as Further Down the Spiral and Things Falling Apart.
He has shared songwriting credits for the NIN songs "The Way Out Is Through" and "Starfuckers, Inc." He appears in the music videos for "Hurt" (live), "Eraser" (live), "Wish" (live), "The Perfect Drug" and "Into The Void". He has also done remixes for various bands, including: White Zombie, Marilyn Manson, Rammstein, Prong, Killing Joke, Type O Negative, Zilch, Schwein, Collide, 12 Rounds, Foetus, Meat Beat Manifesto and Esthero.
Since leaving the NIN camp in 2001, he has worked as a composer, scoring the films Saw (2004), Saw II (2005), Saw III (2006), Saw IV (2007), Saw V (2008), Saw VI (2009), Saw VII (2010), Resident Evil: Extinction (2007), Death Sentence (2007), Dead Silence (2007), Deepwater (2005) and End Of Days (1999), as well as the TV series Las Vegas (2003 - 2007) and Fastlane (2005). He is currently the composer for the series NUMB3RS. He also appeared in the film Moog (2004).
Body Of Work with NIN
Other
External links