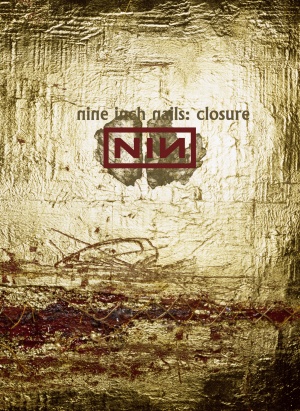 Closure (also known as Halo 12) is a double VHS video set released on November 25, 1997. The first tape is a documentary of the Self-Destruct Tour, and the second tape is a compilation of music videos that had been created up to that point.
According to Russell Mills, who created the artwork, a live album was also planned as a companion to Closure and artwork was made for it, but the idea was scrapped. The unused paintings can be seen here.
DVD
An improved DVD version was first announced to be released in late 2004, but due to issues with Interscope Records, this has yet to happen. On December 20, 2006, two DVDs of Closure were leaked through the use of BitTorrent. Shortly after the leak, a message on Trent Reznor's personal blog on The Spiral was posted possibly linking Reznor himself to the leak:
    12/21/2006 : HAPPY HOLIDAYS!
    This one is a guilt-free download.
    (shhhh - I didn't say that out loud).
    If you know what I'm talking about, cool.

Several years before this higher quality DVD was leaked, a bootleg DVD version of the original VHS titled "Rated 'R' - A Retrospective" was spread around. Aside from the main menus which were fan-created, it is virtually identical to Closure.
Closure: Part 1 and all of the bonus material from both parts of the DVD version have been uploaded to the official Nine Inch Nails Vimeo account.
Video listing
Part 1
Part 1 shows live and behind-the-scenes footage from the Self-Destruct Tour.
Additional items are included on the DVD version:
Appendage (newly discovered footage, 1989-1997)
Stills gallery
Appendage
(00:06) MTV News dressing room interview, Reznor and Richard Patrick
(00:29) Live snippet of "Get Down, Make Love"
(00:45) (cont'd) MTV News dress room interview, Reznor and Patrick
(00:56) Live snippet of "Sin"
(01:17) MTV interview clip, Lollapallooza '91 opening night

(03:42) (cont'd) Live footage: "Terrible Lie"

(08:57) MTV News interview, Reznor explains Phoenix Lollapalooza technical difficulties
(10:01) Live snippet of "Sin"
(10:20) MTV News dressing room interview, Reznor

First live show. Cleveland, 1989.

(14:06) MTV Lollapallooza interview, Reznor discusses large vs. small venues
(14:15) Live snippet of "Down In It"
(14:44) Lollapallooza Phoenix interview: Punishing equipment
(14:57) (cont'd) Live snippet of "Down In It"

(16:54) Montage of live footage set to "Mr. Self Destruct"
(17:15) Live footage: "March of the Pigs"
(17:31) Keyboard destruction

Hurt. 1994.

(19:15) Behind-the-scenes of scrapped "Hurt" video

Woodstock. 1994.

(22:50) Live footage: Introduction and "Reptile"

(29:49) Band in studio listen to prank phone sex call, ending with mix into "Memorabilia"
(31:37) Live: Reznor plays a keyboard solo from "Happiness In Slavery"

(32:46) Alternate "March of the Pigs" video

(34:17) Live: "Mr. Self Destruct"

(36:25) Reznor and Danny Lohner go over chord changes for Soft Cell's "Sex Dwarf" cover
(37:27) Live snippet of "Closer"
(37:43) Live: Stage crew Stonehenge prank during "Wish"

(38:25) Live: "Big Man with a Gun" filmed from offstage
(40:22) Someone does a trick with their eyes
(40:26) Snippet of alternate "March of the Pigs" video
Part 2
Part 2 shows the music videos, in order, that were released up to the point of the release of Closure.
An additional item is included on the DVD version:
Behind-the-scenes footage documenting the creation of the "Closer" video with commentary by Mark Romanek
External Links
Discography