Length:5:47
Versions:Even Deeper
Even Deeper (Instrumental)
Even Deeper (Love Dub)
"Even Deeper" is the eighth track on the Left disc of The Fragile. It is a relatively slow and atmospheric track. Its title and lyrics may or may not be related to "Deep."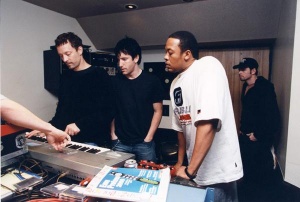 Song Credits
Written by Trent Reznor and Danny Lohner
Backing Vocals: Barbara Wilson, Gary L. Neal, Elquine L. Rice, Traci Nelson, Di Coleman, Tracy Hardin, Stefani Taylor, Leslie Wilson, Rodney Sulton, Terry L. Rice
Mixing Assistance: Dr. Dre
Drum Programming and Additional Synthesizers: Danny Lohner
Appearances
Halos
Seeds
Versions
Even Deeper
This is the original version available on The Fragile. Beginning slowly with layers of percussion and deep synthesizers, Reznor's vocals begin subdued, eventually opening up into a howl for the louder, guitar-driven chorus. Each of the three distinct sections of the song are demarked by quiet, atmospheric breaks, a similar approach as the one used in "Reptile." The predominantly instrumental bridge and coda sections are heavy on mood, featuring violin.
On the vinyl version, the middle instrumental section is extended by a few bars, and the end does not feature "Pilgrimage" fading in.
Even Deeper (Instrumental)
Running Time: 6:19
Released exclusively through Apple Music and later on The Fragile: Deviations 1. Instrumental of the vinyl version.
Even Deeper (Love Dub)
Running Time: 4:32
Also known as "Even Deeper (Telefon Tel Aviv Love Dub)", this remix was released on May 15, 2007 on an album for the group Telefon Tel Aviv, titled Telefon Tel Aviv—Remixes Compiled, along with remixes of other various songs, yet was performed live for years beforehand. It incorporates the atmospheric sounds that were featured on the intro to the original, but it also layers glitchy manipulations of other layers as well. While this version completely leaves out any of the original guitar parts, it features a delayed and reverbed guitar part, some synthesizers, and an additional piano line. A CD-quality MP3 version of the track was uploaded by Reznor on remix.nin.com.
Live
"Even Deeper" made its live debut on November 17, 1999 and was performed at about one-third of the shows on the Fragility and Live: With Teeth tours. After a few rare performances early in the Performance 2007 tour, the song would not reappear until the Tension 2013 Tour. "Even Deeper" was also performed regularly on the Cold And Black And Infinite Tour.
Often, the wordless backing vocals during the second chorus are played by a keyboard instead of being sung. As well, the instrumental middle section tends to last about half as many measures as in the original. Since the Live: With Teeth tour, the last segment of the song has been sung with sparser lyrics. During the Tension 2013 Tour, this song featured backing vocals by Lisa Fischer and Sharlotte Gibson.
Lyrics
    I woke up today
    To find myself in the other place
    With a trail of my footprints
    From where I ran away
    Seems everything I've heard just might be true
    And you know me
    (Well you think you do)
    Sometimes, I have everything—
    Yet I wish I felt something
    
    Do you know how far this has gone?
    Just how damaged have I become?
    When I think I can overcome
    It runs even deeper
    
    In a dream I'm a different me
    With a perfect you
    We fit perfectly
    And for once in my life I feel complete—
    And I still want to ruin it
    Afraid to look
    As clear as day
    This plan has long been underway
    I hear them call
    I cannot stay
    The voice inviting me away
    
    Do you know how far this has gone?
    Just how damaged have I become?
    When I think I can overcome
    It runs even deeper
    Everything that matters is gone
    All the hands of hope have withdrawn
    Could you try to help me hang on
    It runs…
    
    I'm straight
    I won't crack
    On my way
    And I can't turn back
    I'm okay
    I'm on track
    On my way
    And I can't turn back
    I stayed
    On this track
    Gone too far
    And I can't come back
    I stayed
    On this track
    Lost my way
    Can't come back