Length:3:20
Versions:Everything
Everything (Instrumental)
Everything (Autolux Remix)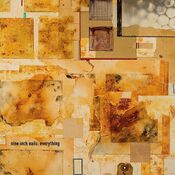 "Everything" is the seventh track on the 2013 release Hesitation Marks. On August 19, 2013, the track officially premiered via an NPR blog.[1] The following day, it was released as a commercial digital single on iTunes and Amazon. "Everything", along with "Satellite", was originally written and recorded for a forthcoming greatest hits package for Interscope Records, but instead provided inspiration towards a new album.[2]
From an interview with The Sun, Trent Reznor said the following about the track:
"I was trying to make something that leapt out of the speakers in a very umfamiliar way. At first listen, it might seem to be in praise of life but it's supposed to come off as an arrogant, 'Fuck you. I've survived!' It also gets less triumphant and more reflective and melancholy towards the end."[3]
Reznor went on to state, in another interview:
"There were a few moments of this album where I expected eyebrows to raise," Reznor says. "But that actually was not one of them. To me, 'Everything' is a descendant of Fear and Joy Division and New Order. Somehow, that song has become representative of this as my 'happy album,' although I don't hear it as such. It's certainly not meant to make you feel like, 'Look at how great everything is!' But it seems to be the shocking moment of the record. We've not played it onstage, only in rehearsals. It's become an irritant to me."[4]
Song Credits
Adrian Belew: Additional Backing Vocals and Outro Electronics
Trent Reznor: Vocals, Electronics, Percussion, Guitar, Bass
Daniel Rowland: Additional Sound Design, Electronics and Guitar
Appearances
Versions
Everything
This is the original album version. Opening with a simple drum loop, the first verse enters with poppy guitars and big vocal harmonies throughout. In contrast, the song's choruses are darker, with noisier guitars playing much less poppy progressions and with shouted vocals. Entering the coda, the song seems to restart exactly the way it begins, but without the vocal layering. Various distorted pads and guitars build the coda towards its climax and sudden ending.
Everything (Instrumental)
Available as part of a digital promo, though only a 30 second sample has surfaced so far.
Everything (Autolux Remix)
Exclusive to the Japanese import of Hesitation Marks.
Music Video
There were plans for a music video to be directed by Shynola, who had also done the video for "How Long?" by How To Destroy Angels, but it was evidently scrapped. A press release from Sony stated that the video would premiere on the same week that Hesitation Marks was released.[5] Nothing materialized and a post to Shynola's Twitter account seemed to confirm that it wasn't going to happen.[6]
Live
"Everything" has never been played live, though has been rehearsed as mentioned in the above interview snippet. It can also be heard being rehearsed live in the background of the first Tension tour behind-the-scenes video put up on the Nine Inch Nails VEVO YouTube account.
Lyrics
    I survived everything
    I have tried everything
    Everything
    And anything
    
    All the walls begin to dissolve away
    Feel your hands begin to shake
    And just who you think you used to be
    All begins to bend and break
    
    Wave goodbye
    Wish me well
    I've become something else
    Something else
    (Just as well, really)
    
    But this thing that lives inside of me
    Will surely rise and wake
    And his seed that bleeds right through to me
    As it comes to grab and take
    
    I am home
    I believe
    I am home
    I am free
    I am home
    I can see
    Always here
    Finally