There have been a number of NIN-related hoaxes and jokes over the years, some perpetrated by fans, some by the media, and some by the NIN camp. This page will compile them.
Fake songs
See main article: Songs misattributed to NIN
Several songs have been falsely attributed to Nine Inch Nails (or related projects), through deliberate fraud, poor track marking or honest mistake.
There have also been fake pre-release leaks over the years. A handful of songs claiming to be new NIN tracks were leaked during the summer of 1999, ahead of the release of The Fragile.
Fake ARG videos
See main article: Mysterious Videos
In 2007, a user at ETS posted of supposedly finding three videos on yearzero.nin.com which were apparently almost instantaneously removed. They were later delivered to another user via request who put them up on YouTube and Sendspace. It is now generally understood that the videos are not real.
Strobe Light
See main article: Strobe Light
As an April Fools joke in 2009, Trent Reznor announced an album called Strobe Light, which was replete with humorous song titles and guest collaborators.
Ten years later, as a new April Fools Joke, a fan-made mashup album was released under the same title. It was posted to Bandcamp and archive.org.
"Down In It" music video incident
To film the shots of lifeless Reznor in the "Down In It" music video, he was covered with cornstarch to create the illusion of decay and cameras were tied to heavy-duty balloons that were tied down. During the filming of these scenes, one of the balloons broke free and took the camera with it, drifting some 200 miles before being found by a farmer in Michigan. The camera was turned over to local police who, upon seeing the raw video footage, assumed it was a snuff film and the FBI was called in to investigate. The incident was even reported on Hard Copy and recalled in an interview for SPIN magazine.
Trent Reznor's homepage
In 1995, a fan created a parody site claiming to be Trent Reznor's personal homepage.[1] It was called "Reznor's Edge" and was also the source of the fake rumor from 1996 that the follow-up to The Downward Spiral was already completed and would be titled Impossible Pain, with an accompanying remix album titled Improbable Pain.[2]
"Dive And Slam"
In 2016, prior to the release of Not The Actual Events, a new NIN single was rumored, with the title "Dive And Slam". The information was sourced from someone claiming to have seen it on a Kobalt Music Group internal database, even posting a screen shot as proof. The single was debunked by Reznor on Twitter.[3]
With Teeth "Tentative Sequence" CD upload
In January 2020, a five-track With Teeth "Tentative Sequence" CD (marked as being from late 2004) was sold on eBay by Amoeba Records. Tracks claiming to be from the CD were posted to archive.org the same month and while the existence of such a CD was verified by Rob Sheridan, the posted tracks were found to be elaborate fakes.[4]
nin.com Memorial Day sale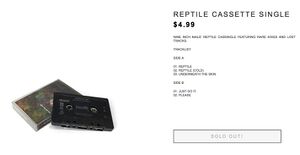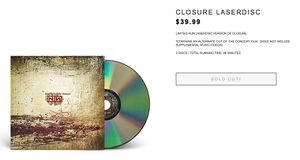 In May 2021, a Memorial Day weekend sale was advertised in the nin.com store, with a note that some new old stock media items had been located and placed up for sale. While there were legitimate media items, two joke items were added and shown as being "sold out": a LaserDisc of "Closure", and a cassette single of "Reptile". The cassette was even touted as containing the long-fabled unreleased song "Just Do It". The LaserDisc was, in reality, available for pre-order in 1997 through Trimark, but was canceled.[5][6]
thninchnails Releases
Fan Remixes
After the release of the Watchmen (Music From The HBO Series) vinyls, an ETS user released a series of elaborately created remixes which were posted to Bandcamp and Soundcloud under the name "thninchnails". This was a shortened and stylized version of The Nine Inch Nails, the "alternate universe" moniker of NIN that was used in the faux packaging presentation on Volume 03 (The Manhattan Project) of the aforementioned vinyls. The remixes were done in the style of mid-90s NIN remixes and were released as faux singles for "Hurt" and "Heresy", with the "Heresy" artwork being borrowed from the liner notes of The Manhattan Project. A third installment was to come, but never got released.[7]
The track titles were as follows:
Heresy (Godless)
Tell Me How I Feel
March Of The Heretics
The Becoming (Polite)
Those Who Suffer
Hurt (Stained)
Whirlpools And Spirals
Me And My Fucking Gun
Burn (In Flames)
The Infector
The Beauty Of Self Destruction
Saigon 1995 recording
Another Watchmen score universe joke came in the form of a fake recording of a 1995 "The Nine Inch Nails" show in Saigon, which was "surfaced" and posted to ninlive.com. This was a reference to the storyline of "The Nine Inch Nails" as told in the liner notes of The Manhattan Project vinyl, with the Saigon show being the last show ever performed. The recording was a file of pure noise, but also contained a folder with a real soundboard recording of the Almost Acoustic Christmas 2005 show as a consolation.[8]
Blue Sunday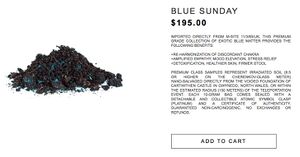 A Watchmen joke merchandise item was added to nin.com just before the release of Volume 03, which was dirt from the crater mentioned in the series. The item was called "Blue Sunday" and it was priced at $195. When attempting to add the item to the shopping cart, a popup stated "Due to FDTA regulations this item is not available for transport to your region." Some people were able to actually place an order for the item and were refunded, but also received a fake letter in the mail and/or a fake voicemail message that led some to believe that an ARG was underway.[9]