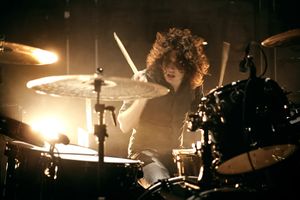 Instruments:Drums, Percussion, Keyboards, Cello, Guitar, Bass, Backing Vocals
Active:2009-
Ilan Rubin (born July 7, 1988) is the current drummer for Nine Inch Nails, replacing former drummer Josh Freese. On November 7, 2020, Rubin and NIN were inducted into the Rock And Roll Hall Of Fame.
Biography
Rubin began playing drums at the age of 8 upon finding his father's old drum kit in the family's garage and within three months had taught himself to play. At the age of 9, he began playing alongside his brothers and soon joined the band F.o.N., who played at three stints of the Vans Warped Tour. Rubin became a fill-in drummer for NOFX on one of those tours. By 1999, Rubin would join F.o.N. at Woodstock '99, earning him the honor of being the youngest person to ever play at a Woodstock festival, at the age of 11.
That same year, Rubin submitted a video of himself playing a drum solo to Modern Drummer's "Best Undiscovered Drummer" contest, winning the title in the under-18 category. He was only 12 when he earned the title. Rubin has taken lessons from Travis Barker and David Uosikken. In addition to drums, Rubin is a guitarist and pianist.
Shortly after F.o.N. disbanded, Rubin joined Denver Harbor along with his older brother and two members of the band Fenix*TX. The band released one album on 2004 before being dropped from their label.
Rubin joined the Welsh band Lostprophets in 2005 after original drummer Mike Chiplin left the band. Lostprophets was working in the studio with Josh Freese before Rubin was hired and ultimately finished the drumming for their album Liberation Transmission. He has also toured with the band since then.
It was around this time that Nine Inch Nails founder Trent Reznor saw the teenaged Rubin performing with Lostprophets and was blown away by what he saw. In 2008, when Freese announced his departure from NIN, Reznor began a search for a replacement and invited Rubin to an audition. On November 14, 2008, Rubin was announced as the new drummer, taking over for Freese in 2009. Rubin is the youngest person to ever join NIN, at the age of 20.
In addition to assuming the drummer position in Nine Inch Nails, Rubin also has a solo project, The New Regime, which he started when he was in Lostprophets. He plans to work on The New Regime while being in Nine Inch Nails.
Body Of Work
2003
Extended Play, Denver Harbor
2004
2006
Liberation Transmission, Lostprophets
2008
2011
Speak Through The White Noise, The New Regime
2013
2015
Exhibit B, The New Regime
2020
Heart Mind Body & Soul, The New Regime
External Links