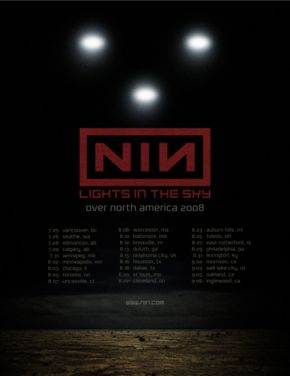 On March 27, 2008, after much speculation, Nine Inch Nails announced a series of North American tour dates. A statement from Trent Reznor accompanied the announcement:
Lots going on in the world of nine inch nails...
Confirming a very poorly kept secret, the band has been reformed (details coming!) and we are about to embark on an extensive tour. The first wave of dates I can mention at this time appear below. Many more to come!
See you soon.
On April 4, 2008, the newest line-up was listed on their official Youtube page, with Rich Fownes listed. On June 5th, 2008, nin.com was updated with the updated band members, and a promotional release and note about the tour:
I am proud to announce the final personnel lineup of nine inch nails for the foreseeable future. We've added, we've subtracted and we've wound up with unquestionably the strongest lineup I've EVER had. Joining me onstage will be Robin Finck, Alessandro Cortini, Josh Freese and Justin Meldal-Johnson.
We've been working on something really special for these shows and so far I couldn't be happier with the results. We'll be revealing some live performances shortly here on nin.com - in the meantime, we've posted some photos from rehearsals up on Flickr here.
Meanwhile, I assume some of you may not be entirely familiar with the acts I've chosen to join us on various legs of this tour, so we've compiled a sampler EP for you. CLICK HERE to download this for free. If you like what you hear, be sure to show up early to the show (and please remember to support them by purchasing their music, if so inclined).
Best,
TR
Nasty Little Man, NIN's Public-relations firm, has confirmed that the Lights In The Sky Tour will be a world tour. Currently only North American and South American dates have been announced.
Line-Up
Alessandro Cortini: Synths, Keyboards, Guitar, Programming, Backing Vocals
Robin Finck: Guitar, Recorder, Backing Vocals
Josh Freese: Drums
Justin Meldal-Johnsen: Bass, Guitar, Keyboards, Backing Vocals
Trent Reznor: Vocals, Guitar, Keyboards, Marimba, Tambourine
Ticket Pre-sales
With the development of nin.com v7.0 and the discontinuation of The Spiral, ticket pre-sales were no longer limited to fan club members, resulting in a new method of ticket pre-sales being developed, explained on nin.com as thus:
Presales for the upcoming tour are about to begin. Presales for the Lexington, KY show will open on Wednesday, with many more shows starting up early next week. We've been working very hard to get the best tickets in the hands of the fans, bypassing scalpers, ticket resellers, and ticketing agencies… This has been a difficult process to bring together outside of The Spiral, and frankly, it's a work in progress. The presale system you'll be using for this tour does everything we set out to do, but as of right now ticket purchasing requires a few more steps than we'd prefer. You can expect a more streamlined system for future tours, but for now, here's what to expect:
First, you'll need to be a nin.com member to access presales. If you haven't already, register for free at remix.nin.com (click "register" once you're at the site), or log in with your Spiral username/password (Spiral members: If you've changed your Spiral pa ssword since November 2007, you may need to use your old password to login).
Then, subscribe to the news feed, or keep an eye on nin.com for presale announcements. The first announcement, regarding the Lexington show, will go up tomorrow.
When you purchase presale tickets, you'll need to enter your legal name exactly as it appears on your identification. When you arrive at the show, there will be a special entrance for nin.com members. Present your ID at the entrance and you'll receive your personalized ticket, which will have your name on it (no tickets will be sent out in advance). You'll then have to enter the venue immediately. This process ensures that our presale tickets are purchased only by fans who are attending the show, and are useless to scalpers and ticket brokers.
More specific presale information will be posted tomorrow and in the coming days.
P.S. - purchasing presale tickets from nin.com will generally be less expensive than from public outlets.
—
posted by NIN PR at 4:41 pm pst, from los angeles
Lights In The Sky Over North America
Tour Dates
| Date/Location | Venue |
| --- | --- |
| 2008/07/19 Los Angeles, CA | The Forum (Dress rehearsal) |
| 2008/07/25 Pemberton, BC | Pemberton Festival |
| 2008/07/26 Seattle, WA | Key Arena at Seattle Center |
| 2008/07/28 Edmonton, AB | Rexall Place |
| 2008/07/29 Calgary, AB | Pengrowth Saddledome |
| 2008/07/31 Winnipeg, MB | MTS Centre |
| 2008/08/02 Minneapolis, MN | Target Center (POSTPONED TO NOVEMBER 25, 2008) |
| 2008/08/03 Chicago, IL | Grant Park (Lollapalooza) |
| 2008/08/05 Toronto, ON | Air Canada Centre |
| 2008/08/07 Uncasville, CT | Mohegan Sun Arena |
| 2008/08/08 Worcester, MA | DCU Center (POSTPONED TO NOVEMBER 9, 2008) |
| 2008/08/10 Baltimore, MD | Pimlico Race Course (Virgin Mobile Festival) |
| 2008/08/12 Knoxville, TN | Knoxville Civic Coliseum |
| 2008/08/13 Duluth, GA | Gwinnett Arena |
| 2008/08/15 Oklahoma City, OK | Ford Center |
| 2008/08/16 Houston, TX | Toyota Center |
| 2008/08/18 Dallas, TX | American Airlines Center |
| 2008/08/20 St. Louis, MO | Scottrade Center |
| 2008/08/22 Cleveland, OH | Quicken Loans Arena |
| 2008/08/23 Auburn Hills, MI | Palace of Auburn Hills |
| 2008/08/25 Toledo, OH | Seagate Convention Center |
| 2008/08/27 East Rutherford, NJ | Izod Center |
| 2008/08/29 Philadelphia, PA | Wachovia Center |
| 2008/08/31 Lexington, KY | Rupp Arena |
| 2008/09/02 Morrison, CO | Red Rocks Amphitheater |
| 2008/09/03 Salt Lake City, UT | The E Center of West Valley |
| 2008/09/05 Oakland, CA | Oracle Arena (formerly Oakland Arena) |
| 2008/09/06 Inglewood, CA | The Forum |
Lights In The Sky Over South America
Tour Dates
Lights In The Sky Over North America
Tour Dates
| Date/Location | Venue |
| --- | --- |
| 2008/10/18 Mexico City, Mexico | Foro Sol (motorokr Festival) |
| 2008/10/19 Guadalajara, Mexico | VFG Arena (motorokr Festival) |
| 2008/10/21 Monterrey, Mexico | Arena Monterrey |
| 2008/10/23 San Antonio, TX | AT&T Center |
| 2008/10/25 New Orleans, LA | City Park (Voodoo Music Festival) |
| 2008/10/28 Orlando, FL | UCF Arena |
| 2008/10/29 Jacksonville, FL | Jacksonville Veterans Memorial Arena |
| 2008/10/31 Nashville, TN | The Sommet Center |
| 2008/11/01 Greenville, SC | Bi-Lo Center |
| 2008/11/03 Greensboro, NC | Greensboro Coliseum Complex |
| 2008/11/05 Charlottesville, VA | John Paul Jones Arena |
| 2008/11/06 Atlantic City, NJ | House Of Blues |
| 2008/11/08 Manchester, NH | Verizon Wireless Arena |
| 2008/11/09 Worcester, MA | DCU Center (RESCHEDULED FROM AUGUST 8) |
| 2008/11/11 Ottawa, ON | Scotiabank Place |
| 2008/11/12 Montréal, QC | Bell Centre |
| 2008/11/14 Hamilton, ON | Copps Coliseum |
| 2008/11/15 Grand Rapids, MI | Van Andel Arena |
| 2008/11/17 Columbus, OH | Schottenstein Center |
| 2008/11/18 Ft. Wayne, IN | Memorial Coliseum |
| 2008/11/20 Cedar Rapids, IA | US Cellular Center |
| 2008/11/21 Columbia, MO | Mizzou Arena |
| 2008/11/22 Tulsa, OK | BOK Center |
| 2008/11/25 Minneapolis, MN | Target Center (RESCHEDULED FROM AUGUST 2) |
| 2008/11/26 Council Bluffs, IA | Mid-America Center |
| 2008/11/28 Rapid City, SD | Rushmore Plaza Civic Center Arena |
| 2008/11/29 Billings, MT | Metrapark Arena |
| 2008/12/01 Saskatoon, SK | Credit Union Centre |
| 2008/12/04 Kelowna, BC | Prospera Place |
| 2008/12/05 Victoria, BC | Save On Foods Memorial Centre |
| 2008/12/07 Portland, OR | Rose Garden Arena |
| 2008/12/08 Nampa, ID | Idaho Center |
| 2008/12/09 Missoula, MT | Adams Center |
| 2008/12/12 Sacramento, CA | Arco Arena |
| 2008/12/13 Las Vegas, NV | Planet Hollywood Resort & Casino |