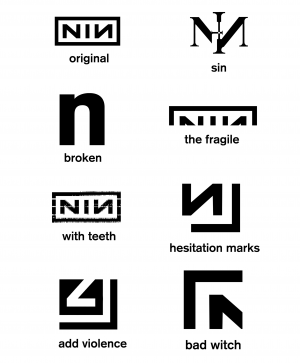 Nine Inch Nails has had many logos throughout its history, and while the original logo is still considered the band's "main" logo, this is a list of all logos that have been used over the years.
Original
Designed by Gary Talpas, based on Trent Reznor's concept.
On Tour
A stencil variant used to mark touring cabinets and equipment.
Designed by The Designers Republic, used on the Sin single.
Designed by Talpas, used on both Broken and Fixed.
Unused NIN logo art created by Russell Mills for The Downward Spiral, 1994.
Pinwheel logo from the Dissonance Tour.
Original logo partly hidden on The Fragile cover art.
Designed by Rob Sheridan, based on the Talpas original.
Many tour posters had variations on the Sheridan theme, glitch manipulation of the Talpas logo. A full gallery is accessible at Category:Tour Lithos.
Notable logo from the Year Zero ARG.
Designed by Sheridan, used only on the album booklet.
Designed by Sheridan, used on a tour poster.
Used on a tour poster.
The Trilogy