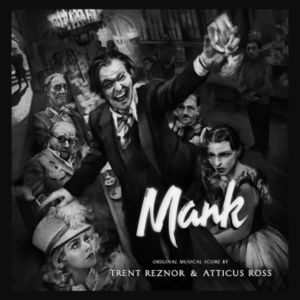 Mank (Original Musical Score) was scored by Trent Reznor and Atticus Ross for David Fincher's film Mank. This is the fourth of several soundtracks that Reznor and Ross have worked on for Fincher. It was released digitally on December 4, 2020, and a special Bandcamp version included an additional 35 bonus tracks consisting of outtakes, demos and alternate versions. A vinyl edition will follow in 2021. Per John Crawford on Echoing the Sound, it was confirmed that the release has the Null 13 release number.
Tracklisting
Credits
Project Coordination: Peter Rotter, Steve Barnett
Orchestrations and Arrangements: Conrad Pope
Big Band Arrangements: Dan Higgins
Foxtrot Arrangements: Tim Gill
Orchestration Realization: Bill Newlin
Additional Orchestrations: Liz Finch, Larry Rench, Nan Schwartz
Score Preparation: Edward Trybek, Henri Wilkinson, Jonathan Beard, Jordan Cox
Orchestra Contractor: Peter Rotter
Vocal Contractor: Jasper Randall
Music Editor: Sally Boldt
Scoring Editor: Jeff Gartenbaum
Mixed by Alan Meyerson, Rich Breen, Atticus Ross, Scott Michael Smith
Mix assistant: Eva Reistad
Mastered by Greg Calbi and Steve Fallone at Sterling Sound NJ
Engineering: Atticus Ross, Brendan Dekora, Tommy Simpson, Nick Chuba, Scott Michael Smith
Assistant Engineer: Aldo Arechar
The Players: Adam Bravo, Alan Steinberger , Alexander Iles, Andrew Duckles, Anthony Parnther, Benjamin Devitt, Bruce Dukov, Charlie Bisharat, Chris Bleth, Daniel Higgins, Doug Tornquist, Dylan Hart, Gareth Price, Geri Rotella, Jacob Braun, Jason Fabus, Jon Lewis, Julie Burkert, Lara Wickes, Laura Brenes, Luanne Homzy, Marcia Dickstein, Maya Magub, Michael Valerio, Nicholas Schaadt, Peter Erskine, Robert Schaer, Scott Smith , Stephen Kujala, Steve Erdody, Steven Holtman, Stuart Clark, Thomas Hooten, Thomas Ranier, Timothy Gill, Trent Reznor, Wade Culbreath, William, Reichenbach, Zach Dellinger
(IF ONLY YOU COULD) SAVE ME: Features Adryon de León
Thank you: David Fincher, Kirk Baxter, Ren Klyce, Mariqueen Reznor and Claudia Sarne.
© all rights reserved
External Links