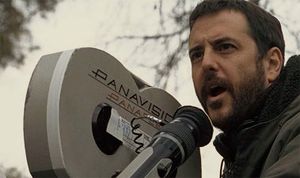 Mark Romanek (born September 18, 1959) is an award-winning music video director and film director. He has directed music videos for numerous artists such as The The, David Bowie, Red Hot Chili Peppers, Beck and Sonic Youth.
One of his earliest notable videos was for the Nine Inch Nails song "Closer." Its critical acclaim was matched by its critical controversy as many accused the video of being disturbing, demonic and demented. Romanek worked with NIN again for the song "The Perfect Drug." Additionally, Trent Reznor was originally hired to score Romanek's second full-length feature film, One Hour Photo.
Romanek's 2002 music video for Johnny Cash's cover of NIN's "Hurt" has been hailed by many critics and fans alike as the most personal and moving music video ever made. The song expresses self-loathing and the futility of worldly accomplishments; this content took on a new poignancy when sung by Cash near the end of his life, quietly performing in his memorabilia-filled home, with shots of the flood-ravaged "House of Cash" museum and archival shots of a younger, cockier Cash edited in. The video was nominated for seven VMAs, winning one for cinematography, and also won Romanek his third Grammy.
Body of Work
Feature Films
Static (1985)
One Hour Photo (2002)
The Wolf Man (2008)
A Cold Case (2008)
Never Let Me Go (2010)
Music video filmography
"Buzz," Pop's Cool Love
"Sweet Bird of Truth," The The (1986)
"Madonna Of The Wasps" Robyn Hitchcock & The Egyptians (1989)
"One Long Pair Of Eyes" Robyn Hitchcock & The Egyptians (1989)
"You Don't Have to Worry," En Vogue (1990)
"Ring Ring Ring (Ha Ha Hey)" De La Soul (1991)
"Love Conquers All" ABC (1991)
"Wicked As It Seems," Keith Richards (1992)
"Moira Jane's Cafe" Definition Of Sound (1992)
"Constant Craving," k.d. lang (1992)
"Free Your Mind," En Vogue (1992)
"Are You Gonna Go My Way," Lenny Kravitz (1993)
"Jump They Say," David Bowie (1993)
"Black Tie White Noise," David Bowie (1993)
"Rain," Madonna (1993)
"Is There Any Love In Your Heart," Lenny Kravitz (1993)
"Beside You" Iggy Pop (1994)
"Closer," Nine Inch Nails (1994)
"Cold Beverage," G. Love & Special Sauce (1994)
"Bedtime Story," Madonna (1995)
"Strange Currencies", R.E.M. (1995)
"Scream," Michael Jackson & Janet Jackson (1995)
"Little Trouble Girl," Sonic Youth (1996)
"Novocaine for the Soul," Eels (1996)
"El Scorcho," Weezer (1996)
"Devil's Haircut," Beck (1996)
"The Perfect Drug," Nine Inch Nails (1997)
"Criminal," Fiona Apple (1997)
"Got 'Til It's Gone," Janet Jackson (1997)
"If You Can't Say No," Lenny Kravitz (1998)
"Do Something," Macy Gray (1999)
"I Try" (second version), Macy Gray (1999)
"Sleepwalker," The Wallflowers (2000)
"God Gave Me Everything," Mick Jagger (2001)
"Hella Good," No Doubt (2002)
"Cochise," Audioslave (2002)
"Hurt," Johnny Cash (2002)
"Can't Stop," Red Hot Chili Peppers (2003)
"Faint," Linkin Park (2003)
"99 Problems," Jay-Z (2004)
"Speed of Sound", Coldplay (2005)
External Links