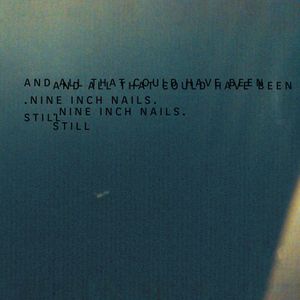 An individual release, and featured as a second disc on the deluxe edition of And All That Could Have Been, Still contains original instrumentals and stripped down versions of old songs. Trent Reznor has stated that some of the tracks on Still are evolutions of rejected themes that were originally written for Mark Romanek's One Hour Photo.[1] Its availability has been on and off since its release, causing extraordinary prices on eBay at times. The tracks are currently available through iTunes and DRM-free at Amazon.com. These tracks are done in the manner of similar ones performed at the CRC Sessions.
Track Listing
Album Credits
Art direction and design: David Carson
Photography: David Carson, Rob Sheridan

Project coordination: Chris Risner
U.S. Publicity: Susan Celia Swan for Nothing Records
International relations: Simon Baeyertz
Label relations: Jeff Anderson
Legal: Toorock and Rosen; Ross B. Rosen, Jeff Slippen


Trent Reznor thanks: My family, John, Chris, Jerry and Denise for trying to help me keep it together

Danny Lohner thanks: Lynn Pompey, the Lohners, Telefon Tel Aviv, Eric Hunter

Jerome Dillon thanks: Sheila Scott, Jeannine Dillon, Thomas J. Dillon, Karen Dillon, Paula and Matthew Coulter, Linda Yang, Zoe Poledouris and the Poledouris family, Eugene Salomon Esq., Mona and Ruby

Charlie Clouser thanks: Dad, Mom, Judy, Jeff Light, Kenny MacPherson, Andrew Meyer, and Danie'l Parker

Robin Finck thanks: Bianca Sapetto, Terri Gross

Special thanks to: A Perfect Circle, Atari Teenage Riot, Gretchen Anderson, Marty Bechtold, Nancy Berry, Steve Bottomley, Mike Calagna, Ed Cherney, Peter Christopherson, Tony Ciulla, Bill Coquillette, Mark Crossingham, John Desmond, Ruth Flower, Erin Gilligan, Jurgen Grebner, Mike Harris, Doug Idleman, Interscope Records, Dr. Stuart Isslieb, Thorsten Koenig, Rob Light, Tim Lightfoot, Daisy May, John Majoras, Marilyn Manson, Marc Marot, Anna Maslowicz, Jackie McPherson, Frank Micelotta, Amy Morrison, Alan Moulder, Jamie Myers, Steve Needleman, Bill Noll, Turid Pilcher, Tony Polanco, Nick Scott, Markus Sheffield, Rick Szekelyi, Michael S. Toorock, Ed Venetti, Chris Walsh, Kevin Westenberg, Del Williams

This is dedicated to the memory of our friend Rodney Robertson. May you rest in peace.
Releases
Nothing Records / Interscope Records 0694931862 - Double CD
Nothing Records / Interscope Records 0694931842 - Still CD
Instrumentation
In late November 2009, Trent Reznor began selling off touring and studio equipment through the eBay account ningear. Several items in the first wave of the auction were spotted as having been used in the recording of Still. The guitar played by Danny Lohner in The Becoming is a Takamine acoustic/electric guitar serial number 93040621. Trans wine/cherry finish, featuring a built-in 'accuAcoustic' EQ.
A La Patrie "concert" nylon string acoustic/electric guitar, equipped with a EPM Quantum EQ was used in the recording of Gone, Still as well as Something I Can Never Have.
External Links
Discography