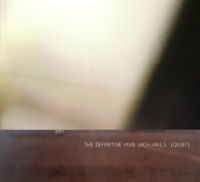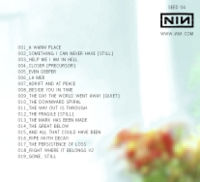 The Definitive NIN - Quiet Tracks, also known as The Definitive NIN - Quiet, is the third part of "The Definitive NIN", a collection of Nine Inch Nails' greatest hits. It was released via BitTorrent. It is labeled as SEED 04.
The collection contains this info:
A compilation album featuring 19 of NIN's quieter songs and instrumentals. A good way to get acquainted with a side of the band many people are unfamiliar with. This is the third release in a three-piece "Best Of" collection.
This torrent includes high-res artwork and an html file with information about NIN and this release. All files are MP3 192kbps and include artwork and lyrics.
Tracklisting
Within the nin:access iPhone app and the "Listen" section of nin.com, the tracklisting was recently updated to include: