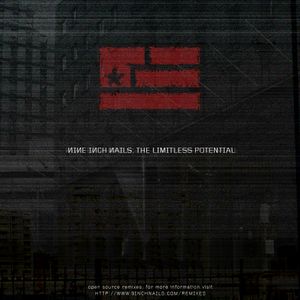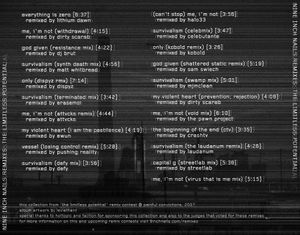 The Limitless Potential is an open source remix compilation of songs from Year Zero, but also includes a few remixes of Only. It was released as a Torrent on September 5, 2007.
It was hosted on Painful Convictions. It is composed of the fan remix contest winners. First place was Dirty Scarab with for "My Violent Heart (Prevention; Rejection)." Second was awarded to Pushing Reality for "Vessel (Losing Control Remix)."
History
The album was compiled through the efforts of a months long deliberation to sort through some 200 fan submitted NIN remixes, the end result being a 21 track album.
Over two hundred tracks were submitted to Painful Convictions for the juried competition, and were voted on by six judges, including personnel from Painful Convictions and The NIN Hotline. Every track that received a majority of "YES" votes over "NO" votes was included in the competition. Luckily (for the judges) there was only one voting period -- Dirty Scarab's mix was the only one to receive six "YES" votes.
The album artwork and photography was designed/shot by Leviathant from photographs taken near 30th Street Station in Philadelphia, Pennsylvania and Martin Place in Sydney, Australia. Obviously, the style heavily emulates the look of Year Zero era promotional CD single artwork, particularly Survivalism.
Cover art
The image on the front cover art depicts the flag of the Year Zero Alternate Reality Game-based A.I.R (Art Is Resistance) resistance group.
Artwork by Leviathant.
Tracklisting
The album is a 21 track open source remixes collection of songs from Year Zero. It is only available on digital download via Torrent.
"Everything Is Zero" (Remixed by Lithium Dawn) (Survivalism Remix) - 6:37
"Me, I'm Not (Withdrawal)" (Remixed by Dirty Scarab) - 4:15
"God Given (Resistance Mix)" (Remixed by DJ Brut) - 4:22
"Survivalism (Synth Death Mix)" (Remixed by Matt Whitbread) - 4:56
"Only (Dispyz Remix)" (Remixed by Dispyz) - 7:15
"Survivalism (Terminated Mix)" (Remixed by erasemoi) - 3:42
"Me, I'm Not (Attvcks Remix)" (Remixed by Attvcks) - 4:44
"My Violent Heart (I Am the Pestilence)" (Remixed by Ewun) - 4:19
"Vessel (Losing Control Remix)" (Remixed by Pushing Reality)
"Survivalism (Defy Mix)" (Remixed by Defy)
"(Can't Stop) Me I'm Not" (Remixed by Halo33)
"Survivalism (Celebmix)" (Remixed by Celebutante)
"Only (Kobold Remix)" (Remixed by Kobold)
"God Given (Shattered Static Remix)" (Remixed by Sam Swiech)
"Survivalism (Swamp Mix)" (Remixed by M J MacLean)
"My Violent Heart (Prevention; Rejection)" (Remixed by Dirty Scarab)
"Me, I'm Not (Void Mix)" (Remixed by the:pawn.project)
"The Beginning of the End (CTV)" (Remixed by crashtv)
"Survivalism (The Laudanum Remix)" (Remixed by laudadum)
"Capital G (Streetlab Mix)" (Remixed by Streetlab)
"Me, I'm Not (Virus That Is Me Mix)" (Remixed by Unknown Artist)
External links
Press