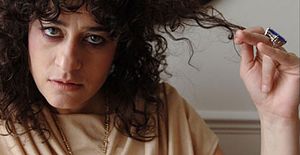 Merrill Beth Nisker (b. 1968; Toronto, Canada), better known as Peaches, is a techno musician. Her songs are mainly concerned with sex. She lives and works in Berlin. Before she became "Peaches", she was an uncertified private elementary school teacher and librarian. She plays almost all the instruments for her songs, programs her own electronic beats and produces her records.
Appearances
Her songs have been featured in movies such as Mean Girls, Waiting, Jackass Number Two, My Little Eye and Lost In Translation. Her music has also been featured on Showtime's The L Word television series. Peaches performed guest vocals on Pink's album Try This, on the song "Oh My God", and on the Chicks On Speed album 99 Cents, on the song "We Don't Play Guitars". She has been invited to lecture at the Contemporary Music Academy in Berlin.
More
She disputes accusations of "penis envy," preferring the term "hermaphrodite envy" since "there is so much male and female in us all". Nevertheless, she does not shy away from identifying herself as a sexual being, although she rejects the sanitized portrayal of women in popular music.
Band
For her 2006 album, Impeach My Bush, Peaches enlisted the help of musicians JD Samson, Radio Sloan, and drummer Samantha Maloney whom she affectionately calls the Herms. Together, Peaches and (the) Herms is a direct reference to 70's duo Peaches & Herb. Peaches and Herms was the opening act for Nine Inch Nails during the second half of their summer 2006 U.S. tour.