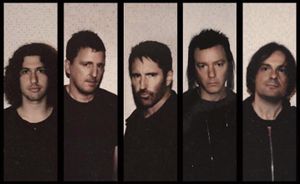 Nine Inch Nails is the name of a music project by Trent Reznor and Atticus Ross, as well as the name of the band hired by them to perform songs while on tour. It is an industrial rock band, and the most recognized one since the genre was introduced. Before Ross's inclusion in 2016, Nine Inch Nails was solely under the creative direction of Trent Reznor.
Nine Inch Nails (commonly abbreviated as NIN) was formed in Cleveland, Ohio, circa 1988, and has so far released eleven full-length studio albums, four EPs, seventeen singles, several remix collections, and some live material. Reznor's lyrics are largely concerned with the exploration of the self, but with albums such as Year Zero and The Slip, the lyrical focus shifted somewhat to extrospection. Earlier NIN material was created almost entirely by Reznor, but starting with The Fragile, he began to allow for a more collaborative writing process involving other players. The sonic ethos of NIN frequently juxtaposes electronic sounds with organic ones, and ugliness with beauty.
After recording a new album, the assembly of a new band usually follows, along with extensive touring; the live component of Nine Inch Nails is largely considered a separate entity from NIN in the recording studio. NIN's live shows often involve visually spectacular elements such as screens and lighting rigs (with more basic elements having been used on the Self Destruct and Fragility tours, and more sophisticated ones on the With Teeth Fall and Spring Arena tours, Performance 2007, Lights In The Sky and NIN 2013-2014 tours) and earlier shows would sometimes culminate with the destruction of musical instruments.
For more history of Nine Inch Nails, see Trent Reznor.
Body Of Work
See also Halo numbers.
Full-Length Albums
EPs
Remix Collections
Live Releases
Other
Singles
Commercial
Radio/Promotional
Members
Trent Reznor
Atticus Ross
Live Band Members
Alessandro Cortini: Keyboards (2004-2008, 2013- ) (Also occasionally handles guitar, bass, backing vocals, programming)
Robin Finck: Guitar (1994-1996, 1999-2000, 2008- ) (Also occasionally handles backing vocals, keyboards)
Ilan Rubin: Drums (2009- ) (Also occasionally handles keyboards, cello, guitar, bass, backing vocals)
Former Members
Guitar
Bass
Keyboards
Drums
Backing Vocals
Other
Martin Atkins (1991-1992) (Studio-only drummer; featured in music video for "Head Like A Hole")
Eric Avery (2013) (Announced as bassist but didn't tour, replaced by Eustis and Palladino)
Sean Beavan (Backup vocals from mixing console for the Self Destruct and Pretty Hate Machine tours)
Adrian Belew (2013) (Announced as guitarist but didn't tour, replaced by Finck)
Wes Borland (Auditioned for guitar player in 2004, eventually replaced by North)
Ralf Dietel (2005) (Announced as guitarist but didn't tour, replaced by North)
Rich Fownes (2008) (Announced as bassist but didn't tour, replaced by Meldal-Johnsen)
Keith Hillebrandt (1996-2002) (Sound designer; was listed as full band member on the "I'm Afraid Of Americans" remix along with Reznor, Lohner, Clouser and Ogilvie)
Brian Liesegang (Helped in the studio on Broken; featured in one of the music videos for "Gave Up"; may have replaced Lee Mars for a few dates)
Dave "Rave" Ogilvie (1997-1999) (Was listed as full band member on the "I'm Afraid Of Americans" remix along with Reznor, Lohner, Clouser and Hillebrandt)
See also
External Links