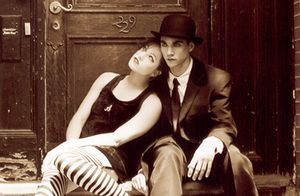 The Dresden Dolls are a musical duo from Boston, Massachusetts. Formed in 2001, the group consists of Amanda Palmer (vocals, piano) and Brian Viglione (drums, guitar, back-up vocals); they describe their style as "Brechtian punk cabaret", a phrase invented by Palmer because she was "terrified" that the press would invent a name that "would involve the word gothic."
The band toured with Nine Inch Nails in 2005 as a supporting act on portions of the Live: With Teeth tour. During the tour, NIN gave Amanda a cake for her birthday which she described as "All Black, one solitary candle. Very NIN". The Dresden Dolls have released four studio albums and a live album.
In late 2007, Brian Viglione collaborated with NIN on two tracks for the album Ghosts I–IV.
Discography
Albums
A is for Accident (2003)
The Dresden Dolls (2003)
Yes, Virginia... (2006)
No, Virginia... (2008)
The Virginia Monologues (2015)
DVDs
Live: In Paradise (2005)
Live At the Roundhouse (2007)
External Links