Mank (Original Musical Score)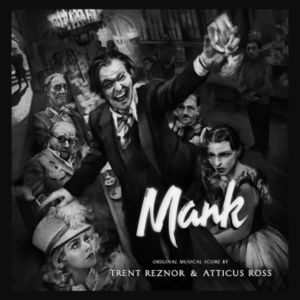 Mank (Original Musical Score) was scored by Trent Reznor and Atticus Ross for David Fincher's film Mank. This is the fourth of several soundtracks that Reznor and Ross have worked on for Fincher. It was released digitally on December 4, 2020, and a special Bandcamp version included an additional 35 bonus tracks consisting of outtakes, demos and alternate versions. A vinyl edition was expected in early 2021, but has not yet materialized. Per John Crawford on Echoing the Sound, it was confirmed that the release has the Null 13 release number.
Tracklisting
Samplers
For Your Consideration Sampler
This sampler has the same tracklisting as the digital release, spread over two discs and splitting between "In Your Arms Again" and "The Dark Night of the Soul". A one-track Best Original Song sampler was also released for "(If Only You Could) Save Me".
Oscars For Your Consideration Sampler
A separate For Your Consideration release was created for the Oscars campaign, which contained a different tracklisting from the retail release. This sampler was also posted for online streaming at the Netflix Awards website.
Disc 1
"Opening" - 2:15
"Alcohol" - 0:13
"He Cut A Month + Hollywood and Vine" - 1:05
"Sara and Drunk Mank" - 2:01
"Car Wreck" - 0:48
"First Dictation" - 2:22
"Lederer Arrives" - 1:33
"Introduce Charlie to Selznick" - 2:05
"Writers' Pitch" - 0:54
"You Don't Know My Aunt" - 1:16
"Screaming" - 0:53
"Fuddy Duddy AKA Source on Set" - 1:14
"Cowboys and Indians" - 0:54
"Dinner Seating Arrangements" - 0:39
"Letter from the Lieutenant" - 1:09
"Seconal" - 0:49
"Ferry Memory" - 0:34
"Half the Wit" - 0:45
"Walk with Mayer" - 1:42
"Butt Scratch" - 0:24
"A Respectable Bribe" - 1:03
"Foot in Mouth" - 0:54
"Acceptance Waltz" - 4:55
"Notebooks and Bottles" - 0:44
"German for Blabbermouth" - 1:24
"Lend Me a Buck" - 1:20
"Mank to Thalberg's Office" - 1:03
"Mank's Taunt" - 0:11
"In Your Arms Again" - 1:33
"Agreed to No Screen Credits" - 1:09
"(If Only You Could) Save Me + Billboard" - 0:37 (misprinted as two separate tracks on the CD sleeve)
"Way Back When" - 0:25
"Poker Game" - 1:30
"Shelly's Reel Intro + Shelly's Reel" - 2:10
"Marion's Exit" - 3:04
"Absolution" - 1:06
"Election Night Opening + Election Night Upbeat Montage + Election Night Mank Speaks His Mind" - 4:15
"Election Night Nightmarish Montage" - 0:53 (misprinted as appearing on Disc 2 on the CD sleeve)
Disc 2
"Election Night Dance with Sara" - 1:01
"Election Night Victory" - 0:44
"I'm Eve" - 0:32
"Best Thing You've Ever Written" - 2:10
"Parkinson's" - 2:19
"Suicide" - 0:15
"Marion Arrives" - 0:33
"Reconcile" - 2:15
"Funeral Source + Handkerchief" - 1:26
"Welles Phone Call" - 1:04
"Costume Dinner" - 1:52
"Sara Speaks" - 1:20
"Fireplace" - 1:10
"Dulcinea" - 0:37
"Willie's Been Paying, Welles Arrives" - 1:42 ("Paying" misprinted as "Playing" on the CD sleeve)
"Organ Grinder's Monkey" - 2:24
"Welles Blowout" - 0:38
"All This Time" - 4:55
"New Perspective" - 2:26
Credits
Project Coordination: Peter Rotter, Steve Barnett
Orchestrations and Arrangements: Conrad Pope
Big Band Arrangements: Dan Higgins
Foxtrot Arrangements: Tim Gill
Orchestration Realization: Bill Newlin
Additional Orchestrations: Liz Finch, Larry Rench, Nan Schwartz
Score Preparation: Edward Trybek, Henri Wilkinson, Jonathan Beard, Jordan Cox
Orchestra Contractor: Peter Rotter
Vocal Contractor: Jasper Randall
Music Editor: Sally Boldt
Scoring Editor: Jeff Gartenbaum
Mixed by Alan Meyerson, Rich Breen, Atticus Ross, Scott Michael Smith
Mix assistant: Eva Reistad
Mastered by Greg Calbi and Steve Fallone at Sterling Sound NJ
Engineering: Atticus Ross, Brendan Dekora, Tommy Simpson, Nick Chuba, Scott Michael Smith
Assistant Engineer: Aldo Arechar
The Players: Adam Bravo, Alan Steinberger , Alexander Iles, Andrew Duckles, Anthony Parnther, Benjamin Devitt, Bruce Dukov, Charlie Bisharat, Chris Bleth, Daniel Higgins, Doug Tornquist, Dylan Hart, Gareth Price, Geri Rotella, Jacob Braun, Jason Fabus, Jon Lewis, Julie Burkert, Lara Wickes, Laura Brenes, Luanne Homzy, Marcia Dickstein, Maya Magub, Michael Valerio, Nicholas Schaadt, Peter Erskine, Robert Schaer, Scott Smith , Stephen Kujala, Steve Erdody, Steven Holtman, Stuart Clark, Thomas Hooten, Thomas Ranier, Timothy Gill, Trent Reznor, Wade Culbreath, William, Reichenbach, Zach Dellinger
(IF ONLY YOU COULD) SAVE ME: Features Adryon de León
Thank you: David Fincher, Kirk Baxter, Ren Klyce, Mariqueen Reznor and Claudia Sarne.
© all rights reserved
Accolades
| Award | Category | Result |
| --- | --- | --- |
| Academy of Motion Picture Arts and Sciences—Oscars | Best Original Score | Nominated |
| British Academy of Film and Television Arts (BAFTAs) | Original Score | Nominated |
| Chicago Film Critics Association | Best Original Score | Nominated |
| Critics Choice Awards | Best Score | Nominated |
| Greater Western New York Film Critics Association | Best Score | Nominated |
| Hollywood Foreign Press Association—Golden Globes | Best Original Score | Nominated |
| Music City Film Critics' Association | Best Score | Nominated |
| St. Louis Film Critics Association | Best Original Score | Nominated |
| Satellite Awards | Best Original Score | Nominated |
| Society of Composers and Lyricists Awards | Outstanding Original Score for a Studio Film | Nominated |
| Society of Composers and Lyricists Awards | Outstanding Original Song for Visual Media ("(If Only You Could) Save Me") | Nominated |
External Links