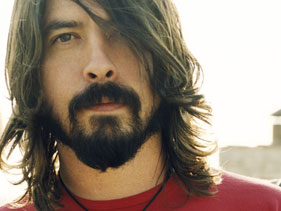 David Eric Grohl (born January 14, 1969, in Warren, Ohio) is an American rock musician and songwriter. In 1990 he became the drummer for grunge group Nirvana; following the 1994 death of Nirvana frontman Kurt Cobain, Grohl formed the Foo Fighters.
In 2004, Grohl drummed on all but six tracks for Nine Inch Nails' 2005 album With Teeth. He later drummed on "The Idea Of You" from the 2016 EP Not The Actual Events. NIN also opened for the Foo Fighters at a show in Dublin, Ireland in 2007. Grohl also collaborated with Trent Reznor and Josh Homme for "Mantra", a song from the soundtrack to his documentary about Sound City studios. In 2020, to commemorate NIN's induction into the Rock And Roll Hall Of Fame, St. Vincent recorded a cover of "Piggy" with Grohl on drums. In 2023, former NIN drummer Josh Freese became the drummer for the Foo Fighters.
With Teeth drumming
Grohl has performance credits for live drums and/or percussion on "All The Love In The World", "You Know What You Are?", "The Collector", "Every Day Is Exactly The Same", "Getting Smaller", "Sunspots", "The Line Begins To Blur", and non-album track "Non-Entity".
Body of Work
Scream
No More Censorship
Fumble
Nirvana
Nevermind
Hormoaning EP
Incesticide
In Utero
MTV Unplugged in New York
Live! Tonight! Sold Out!!
From the Muddy Banks of the Wishkah
NIRVANA
With the Lights Out
Sliver - The Best of the Box
Live at Reading
Live at the Paramount
Live and Loud
Foo Fighters
Foo Fighters
The Colour and the Shape
There is Nothing Left to Lose
One by One
In Your Honor
Skin and Bones
Echoes, Silence, Patience & Grace
Wasting Light
Sonic Highways
Saint Cecilia EP
Concrete And Gold
Medicine At Midnight
But Here We Are
Other Projects
King Buzzo - Buzz Osborne
Backbeat OST
Touch OST
Tenacious D - Tenacious D
Songs For The Deaf - Queens Of The Stone Age
...Like Clockwork - Queens Of The Stone Age
Probot - Probot
Killing Joke - Killing Joke
With Teeth - Nine Inch Nails
The Pick of Destiny - Tenacious D
Them Crooked Vultures - Them Crooked Vultures
Sound City: Real To Reel soundtrack
If You Have Ghost EP - Ghost
RedGoldGreen EP - RDGLDGRN
Not The Actual Events - Nine Inch Nails
If I Can't Have Love, I Want Power - Halsey
External Link