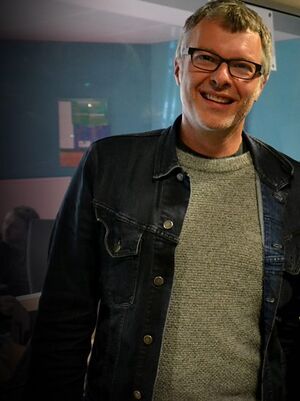 Flood, a.k.a Mark Ellis, is a British record producer whose work often blends synthetic and organic elements.
Flood has worked with Trent Reznor on various Nine Inch Nails songs from Pretty Hate Machine, Broken and The Downward Spiral.
Some of his most well-known collaborations include Nick Cave and the Bad Seeds, The Jesus and Mary Chain, Depeche Mode, U2, The Smashing Pumpkins, The Sound, Erasure, Curve, Nitzer Ebb, The Killers, and PJ Harvey.
Body of Work
Nick Cave and the Bad Seeds
From Her to Eternity (1983-1984)
The Firstborn Is Dead (1984)
Kicking Against the Pricks (1985-1986)
Your Funeral... My Trial (1986)
Tender Prey (1987-1988)
The Good Son (1989)
The Boatman's Call (1997)
Erasure
Wonderland (1986)
The Circus (1987)
Loveboat (2000)
U2
The Joshua Tree (1987)
Achtung Baby (1991)
Zooropa (1993)
Pop (1997)
How to Dismantle an Atomic Bomb (2004)
Songs of Innocence (2014)
The Silencers
Nine Inch Nails
Pretty Hate Machine (1989)
Broken (1992)
The Downward Spiral (1994)
Depeche Mode
Violator (1990)
Songs of Faith and Devotion (1993)
This is the Day, This is the Hour, This is This (1988)
Cure For Sanity (1991)
The Charlatans
Between 10th And 11th (1992)
The Smashing Pumpkins
Mellon Collie and the Infinite Sadness (1995)
Adore (1998)
Machina/The Machines of God (2000)
PJ Harvey
To Bring You My Love (1995)
Is This Desire? (1998)
White Chalk (2007)
Let England Shake (2011)
The Hope Six Demolition Project (2016)
Nitzer Ebb
Belief (1989)
Showtime (1990)
Ebbhead (1991)
Big Hit (1995)
Industrial Complex (2010)
JJ72
The Duke Spirit
"Cuts Across The Land" (2004, released 2005)
A-Ha
Soulwax
Placebo
The Killers
Sigur Rós
Með suð í eyrum við spilum endalaust (2008)
30 Seconds To Mars
Editors
In This Light And On This Evening (2009)
The Pains of Being Pure At Heart
External Link