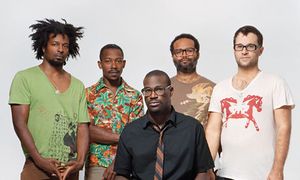 TV On The Radio is a experimental rock band from New York City. They opened several shows for Nine Inch Nails on the With Teeth Tour.
Collaborations with NIN
TV On The Radio joined Trent Reznor and Peter Murphy (of Bauhaus) for a special radio performance. The TVOTR song "Dreams" was performed, as well as "Final Solution" by Pere Ubu and "Bela Lugosi's Dead" by Bauhaus.
Discography
OK Calculator (2002)
Young Liars EP (2003)
Desperate Youth, Blood Thirsty Babes (2004)
New Health Rock EP (2004)
Return To Cookie Mountain (2006)
Dear Science (2008)
Nine Types of Light (2011)
Seeds (2014)