Bones and All (Original Score)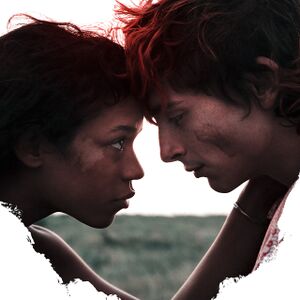 Bones and All (Original Score) was scored by Trent Reznor and Atticus Ross for Luca Guadagnino's film of the same name. It was released on digital on November 18, 2022.
Tracklisting
Digital
Samplers
An awards season For Your Consideration sampler was posted for streaming on the United Artists Releasing awards website. While most of it contains tracks taken directly from the retail score album, tracks 4, 20, and 23 contain different music cues, as they appear in the film, including the alternate vocal take on "(You Made It Feel Like) Home".
"I'm With You (A Way Out)" - 1:24
"Lost Girls" - 1:15
"Good and Destroyed" - 1:57
"Vinegar" - 4:16
"I'm With You (You Seem Nice)" - 2:07
"It's Your Turn" - 1:58
"You Don't Have To Be Alone" - 2:56
"Forgotten Pictures" - 0:49
"In Dreams" - 0:17
"I'm With You" - 6:26
"By the Light of the Campfire" - 3:40
"Night in the Cornfield" - 1:52
"We Should Feel Something" - 2:33
"It's Just Darkness" - 1:08
"You'll See What I Mean" - 3:42
"I'm With You (Always)" - 2:36
"Destroyed" - 1:02
"Violence Remains" - 0:58
"The Great Wide Open" - 5:07
"Normal Life" - 1:16
"Other Paths Not Explored" - 1:37
"Unfinished Business" - 10:31
"(You Made It Feel Like) Home" - 2:42 (Trent Reznor, Atticus Ross & Mariqueen Maandig Reznor)
"The Great Wide Open (Reprise)" - 5:17
Credits
Music written, arranged, produced, performed, programmed and mixed by Trent Reznor & Atticus Ross
Guitars: George Doering
Score Engineering: Jacob Moreno
Orchestrator & Conductor: Conrad Pope
Score Preparation: Bill Newlin
Copyist: Jordan Cox
Orchestra Mixed by Scott Smith
Score Music Editor: Jack Dolman
Music Coordinator: Peter Rotter
External Links