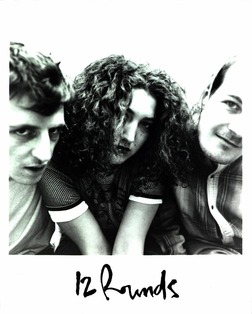 12 Rounds is a British rock band formed by Atticus Ross, Claudia Sarne and Adam Holden. They released their first album, Jitter Juice, on Polydor and sold well enough to lead to a series of British festival appearances and an extensive tour with the Sneaker Pimps. However, the band was dropped by the label; after producing an album's worth of material in the summer of 1997, Trent Reznor heard them and signed them to Nothing Records. The band then put out their next album, My Big Hero, in 1998; a song from the album, titled "Pleasant Smell", was released as a single with various rethought versions of the song by various artists for the Nothing Collective, including: Trent Reznor, Keith Hillebrandt, Charlie Clouser and Clint Mansell. An additional album has been recorded, however it has still to see a release. Their song "Something's Burning" was featured on the soundtrack to the 1997 film All Over Me and "Just Another Day", their collaboration with Pale 3 was featured on the soundtrack to the 2000 film The Princess and the Warrior.
Outside of 12 Rounds, Atticus Ross has done various work with Nine Inch Nails, How To Destroy Angels and wife Claudia Sarne. He has also worked with Jerome Dillon on his nearLY project.
On July 25th, 2009, Claudia revived the long time stagnant 12rounds.net website with a blog posting. 12 Rounds began releasing remastered versions of some of their unreleased songs. They are available as free downloads in MP3, M4A, and FLAC formats.
Discography
Jitter Juice (Polydor) - 1996
My Big Hero (Nothing) - 1998
External Links