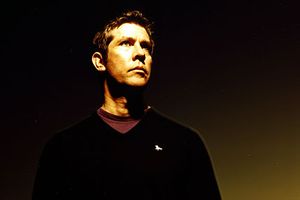 Eric Avery (born April 25, 1965) was the original bass player for Jane's Addiction, a member of Deconstruction and Polar Bear and is also a solo artist. On February 25, 2013, it was announced that he would be part of the touring lineup of Nine Inch Nails, but it was announced on May 15th, 2013 that the live band no longer included him.
Biography
Avery co-founded Jane's Addiction with Perry Farrell, Dave Navarro and Stephen Perkins in 1985. After the original dissolution of the band in 1991, he participated in side projects such as Deconstruction (with Dave Navarro) and Polar Bear. He also served as a recording and/or touring bassist for artists such as Alanis Morissette, Peter Murphy and Garbage.
Avery toured alongside Nine Inch Nails in 2009 when the original lineup of Jane's Addiction was the co-headliner for the NIN/JA leg of the Wave Goodbye Tour. He was also present when the band recorded two of its earliest songs, with Trent Reznor producing, for the EP that promoted the tour.
In 2013, Reznor announced that Avery would be playing bass in Nine Inch Nails for its 2013-2014 world tour, but a few months later Avery posted on his Facebook account that he had chosen not to go on tour, citing his having just finished a major tour with Garbage and his desire to focus on soundtrack work as the reasons.
Body of Work
Jane's Addiction
Jane's Addiction (1987)
Nothing's Shocking (1988)
Ritual de lo Habitual (1990)
Live and Rare (1991)
Kettle Whistle (1997)
Up From The Catacombs: The Best of Jane's Addiction (2006)
A Cabinet Of Curiosities (2009)
Deconstruction
Polar Bear
Chewing Gum EP (1997)
Why Something Instead of Nothing? (1999)
Solo
Help Wanted (2008)
LIFE.TIME. (2013)
External Links