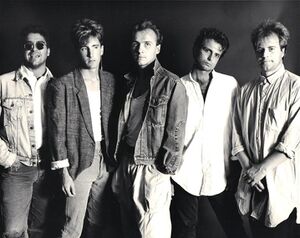 Exotic Birds was a synthpop music group formed in 1983 in Cleveland, Ohio, by Andy Kubiszewski, Tom Freer and Tim Adams. Trent Reznor's time in the band was preceded by a stint in The Innocent and followed by a stint in Slam Bamboo.
History
The band at one point had five members. Adams left to work with orchestras, but Mark Best and Frank Vale signed on. In 1985, Reznor joined the band on keyboards, programming and backing vocals, and soon after, Reznor's roommate Chris Vrenna replaced Freer on drums. However, by 1988, the band had broken up.
Kubiszewski reformed with a new line-up including Doug Beck and Richard Carpenter, and released the group's first CD Equilibrium. In 1990, Beck left, and Nick Rushe joined on keyboards. The band signed to Alpha International Records out of Philadelphia, PA, for what was to be their next album. Instead, Alpha repackaged Equilibrium, cutting several tracks, and adding the new song "Imagination" to lead off the disc. Alpha was bought out just days after "Imagination" was released as a single. After Rushe departed, Rodney Shields (keyboards) and Marty Step (guitar) joined, rounding out the final Exotic Birds' line-up. In 1993, Kubiszewski left to play drums with The The, but returned for one final gig in 1994.
Reznor, Vale and non-Exotic Birds member Mark Addison were the fictional band The Problems in Paul Schrader's 1987 film Light of Day. One-time Exotic Birds manager John Malm was Reznor's long-time manager and co-founder of Nothing Records.
Discography
Who Knows Why/Dance the Night Away (7 single, 1983)
Exotic Birds (1984)
L'oiseau (1986)
Equilibrium (1989, reissued 1990)