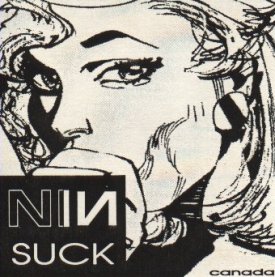 Halo 00 is a commercial silver bootleg released in summer 1992 (or earlier). It was supposedly a limited, numbered release of 2000 copies.
Background
The first track is a soundboard recording of NIN performing "Suck" live at an unknown date likely from the Hate or Sin tours. This was originally released on the TVT Sampler Summer 1991 promo cassette. The second track is "Supernaut" with the original vocals by Trent Reznor, taken from the Wax Trax! Sampler #2 promo cassette. This was a couple years before the Reznor vocal version was officially released on the Wax Trax Black Box.
These 2 tracks were later made available on the bootleg Demos and Remixes. The image used on the cover is taken from the Black Kiss comic book series by Howard Chaykin.
Tracklisting
"Suck" – 5:26
"Supernaut" – 6:24