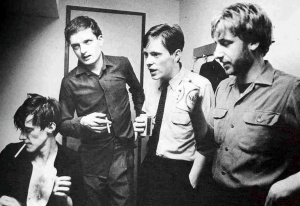 Joy Division were an English rock band formed in 1976 in Salford, Greater Manchester. They were active from 1976 to 1980 and only released two studio albums as the result of lead singer Ian Curtis committing suicide on May 18, 1980. The remaining band members, along with drummer Stephen Morris's wife, Gillian Gilbert, went on to form New Order.
Trent Reznor has cited the band as a major influence. Nine Inch Nails covered "Dead Souls" for The Crow soundtrack in 1994 (and played it many times live), Reznor covered four songs with Peter Murphy of Bauhaus on July 1st, 2006, "Atmosphere" was covered during the 2009 Wave Goodbye Tour, and, most recently, the band covered "Digital" on the NIN 2017-2018 tour.
In 2007, Stephen Morris and Gillian Gilbert contributed remixes of "God Given" and "Zero-Sum" to Y34RZ3R0R3M1X3D.
Discography
Joy Division's complete discography can be found here.
Studio Albums
Unknown Pleasures (1979)
Closer (1980)
External Links