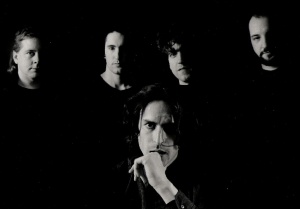 Lucky Pierre was a new wave band formed in the late 70s in Cleveland, Ohio, by Kevin McMahon. In 1988, a reformed version of the band included Trent Reznor on keyboards. Reznor's time in the band was preceded by a stint in Slam Bamboo and this was his last band before creating Nine Inch Nails.
History
The initial line-up of the band included McMahon on vocals, John Guardico on guitar, Dennis DeVito on bass and Brian Dempsey on drums. The band released a number of singles in between the late 70s and early 80s, before going on hiatus until 1988, when the Communique EP was released.
The band reformed with new member Trent Reznor. Reznor left in 1989 and the band was dissolved in 1990. This was followed by McMahon's next project, Prick. Prick was signed to Nothing Records, had its first album partially produced by Reznor, and was a support act for the Dissonance tour.
In 2004, McMahon revived the Lucky Pierre name (though he was the sole member) to release the first full length album, ThinKing.
External Links