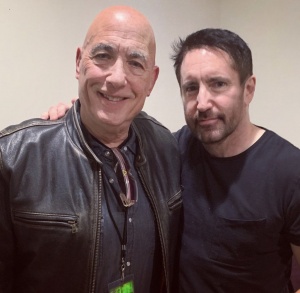 Mike Garson (born Michael David Garson on 29 July, 1945) is an American pianist who has collaborated with David Bowie and Nine Inch Nails, among other well-known acts, throughout his career.
He has performed as a live guest several times with the band during the Wave Goodbye Tour in 2009 and the Cold And Black And Infinite Tour in 2018. He guested in the studio on "Ripe (With Decay)", "The Way Out Is Through" and "Just Like You Imagined" from 1999's The Fragile. He also appeared on "Just Like You" from the Gone Girl Soundtrack and co-wrote/performed "Trust In The Law" from Volume 02 of Watchmen (Music From The HBO Series).
In 2021 he accompanied Trent Reznor and Atticus Ross for covers of David Bowie's "Fantastic Voyage" and "Fashion" (with Mariqueen Maandig on "Fashion") for A Bowie Celebration: Just For One Day!, and made an appearance on the Halsey track "People Disappear Here", which was produced by Reznor and Ross.[1]