Versions:
My Violent Heart
My Violent Heart (Instrumental)
My Violent Heart (Leak Version)
My Violent Heart: Pirate Robot Midget
"My Violent Heart" is the eighth track and was the first song to leak from the 2007 release Year Zero. Multitracks for this song were released in raw WAV, GarageBand and Ableton Live formats via remix.nin.com. The song's drum pattern is very similar to that of "God Given".
World of Year Zero reference
This has lyrics from MVH. Most likely MVH is about this particular World of Year Zero character.
The 'Presence' Reference
An amazing discovery was made while analyzing the content of the leaked MP3. In the last few seconds of the song there is an awkward bit of static. Running the audio file through an audio spectrometer, a distinct image was found within the static. It is indeed "The Presence" from the Year Zero concept. In the album version of the song, the static and image are not present. They are at the end of The Warning.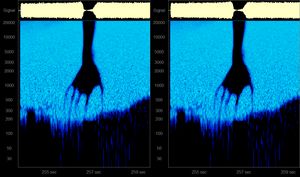 Leak
At the February 12th, 2007 Nine Inch Nails concert in Lisbon, Portugal, a plain-looking USB flash drive was found in a bathroom stall. It was later found to hold a single MP3 file with the title "My Violent Heart". The numeric sequence "24.3.2" was found within the MP3's ID3 tag of the leaked copy.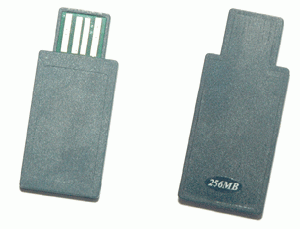 Appearances
Halos
Versions
My Violent Heart
This is the album version of the song. It begins with looping percussion and vocals soon enter. Just before the chorus, a synthesizer plays as a climax builds. The chorus contains mechanical and robotic noises layered in a very industrial way, creating a very rhythmic wall of sound. The bridge of the song contains guitar parts that have been heavily edited and chopped up.
My Violent Heart (Instrumental)
Running Time: 4:24
This unmastered vocal-less mix was released by Trent Reznor through his remix.nin.com account.
My Violent Heart (Leak Version)
This version of the song has the static at the end of the song, revealing "The Presence".
My Violent Heart: PRM Dance Mix
Running Time: 2:34
This fan mix by Pirate Robot Midget was initially posted at NIN Remixes and can be heard on Y34RZ3R0R3M1X3D. It contains a more dance-oriented beat than the album original and has a considerably shorter running time than the album original. Interestingly enough, the version that appears on Y34RZ3R0R3M1X3D has some sound elements not heard in the original remix, the most noticeable of which is a beeping noise heard in the background. This sound is almost reminiscent of an ECG (electrocardiograph) machine commonly found in hospitals.
Song Credits
Remix and additional production by Pirate Robot Midget at Fakefriends Studio, Netherlands
Live
"My Violent Heart" has never been played live, the only Year Zero song with vocals to have not been performed.
Lyrics
    You and I we may look the same
    But we are very far apart
    There's bullet holes where my compassion used to be
    And there is violence in my heart
    Into fire you can send us
    From the fire we return
    You can label us a consequence
    Of how much you have to learn
    
    You can try but you'll never understand
    This is something you will never understand
    Can you hear it now?
    Hear it coming now?
    Can you hear it now?
    
    On hands and knees
    We crawl
    You can not stop us all
    You wear our bones
    Our skin
    We will not let you in
    
    You have set something in motion
    Much greater than you've ever known
    Standing there in all your grand naïveté
    About to reap what you have sown
    Time will feed upon your weaknesses
    And soon you'll lose the will to care
    When you return to the place that you call home
    We will be there
    We will be there
    
    On hands and knees
    We crawl
    You can not stop us all
    Our blood
    Will stay
    We will not go away
    On hands and knees
    We crawl
    You can not stop us all
    Our blood
    Our grace
    Will never leave this place

The fourth line of the first chorus is shortened in the actual recording:
    Our bones