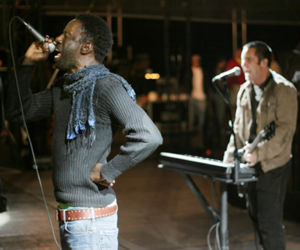 Saul Williams (born February 29, 1972) is a hip-hop artist, poet, writer and actor who has collaborated with Trent Reznor and Nine Inch Nails on several occasions. He was also part of the ceremony when NIN were inducted into the Rock And Roll Hall Of Fame.
Collaborations with NIN
Besides opening numerous shows for the band on the Live: With Teeth tour, Williams was joined by the full NIN touring band during the Voodoo Festival in New Orleans to play "African Student Movement" and "List Of Demands" from his self-titled album. Bootlegs of this performance are widely available.
Reznor produced Williams' third full-length studio album, The Inevitable Rise And Liberation Of NiggyTardust!, which was made available for download on November 1, 2007. In addition, Williams has contributed two tracks to Nine Inch Nails' Y34RZ3R0R3M1X3D: "Gunshots By Computer" and "Survivalism_Tardusted" which was previously included on the Survivalism single. There is however some speculation that this mix was actually written by Thavius Beck and Williams just performed the vocals.
Body of Work
Albums/EPs
Penny For A Thought / Purple Pigeons EP (2000)
Amethyst Rock Star (2001)
Not In My Name EP (2003)
Saul Williams (2004)
The Inevitable Rise And Liberation Of NiggyTardust! (2007)
NGH WHT: The Dead Emcee Scrolls with The Arditti Quartet (2009)
Volcanic Sunlight (2011)
MartyrLoserKing (2016)
Encrypted & Vulnerable (2019)
Filmography
Downtown 81 (narrator) (1981/2000)
Underground Voices (1996)
Slam (1998)
SlamNation (1998)
I'll Make Me a World (1999)
K-PAX (2001)
Lackawanna Blues (2005)
Today (2012)
Bibliography
The Seventh Octave, 1998, Moore Black Press ISBN 0-9658308-1-0
S/he, 1999, MTV/Pocketbooks ISBN 0-671-03977-6
,said the shotgun to the head, 2003, MTV/Pocketbooks ISBN 0-7434-7079-6
The Dead Emcee Scrolls, 2006, MTV/Pocketbooks ISBN 1-4165-1632-8
Chorus, 2012, MTV Books, ISBN 1-4516-4983-5
US (a.), 2015, Gallery Books/MTV Books, ISBN 9781476779324
External Links