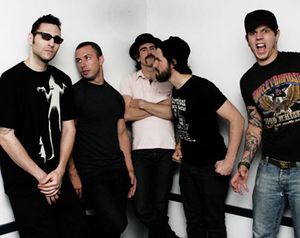 The Dillinger Escape Plan was an experimental metal band that was formed in Morris Plains, New Jersey in 1997. Since the initial formation of the band many changes have been evident, mostly the vocalist position, with the current vocalist being Greg Puciato. The band announced its breakup and final tour in 2016.
Dillinger Escape Plan is well known within the NIN community due to the studio cover of "Wish" on the Plaigerism EP and frequent on stage performances with NIN. Guest performances between the bands occurred during the 2009 Wave Goodbye Tour and they were later chosen as one of the openers for the NIN + Soundgarden Tour.
Members
Current Lineup
Greg Puciato – lead vocals (since 2001)
Ben Weinman – guitars, programming (since 1997)
Liam Wilson – bass (since 1999)
Billy Rymer – drums, percussion (since 2009)
Kevin Antreassian - guitars (since 2015)
Former Members
James Love – guitars (2012-2015)
Derek Brantley – guitars (1997)
John Fulton – guitars (1997–1999)
Dimitri Minakakis – lead vocals (1997–2000)
Adam Doll – bass (1997–1999), electronics (2001–2002)
Brian Benoit – guitars (1999–2005)
Chris Pennie – drums, percussion (1997–2007)
Gil Sharone – drums, percussion (2007–2008)
Jeff Tuttle – guitars (2007-2012)
Discography
Studio Albums
Calculating Infinity (1999)
Miss Machine (2004)
Ire Works (2007)
Option Paralysis (2010)
One Of Us Is The Killer (2013)
Dissociation (2016)
EPs
The Dillinger Escape Plan (1997)
Under the Running Board (1998)
Irony is a Dead Scene (2002)
Plaigerism (2006)
Trivia
Ben Weinman auditioned to be the NIN live guitarist for the Live: With Teeth tour.[1]
The band's name is derived from the famous convicted bank robber and gangster John Dillinger.