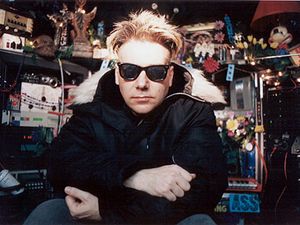 Martin Atkins (born August 3, 1959) is a British-born session drummer and musician known for his work in the industrial music scene. He formed Pigface sometime around 1990 while touring with Ministry. Pigface would have an ever-changing line-up over the years, receiving criticism for a perceived lack of continuity. Atkins is the only person who has been involved with the project from day one. In recent years, he has taught a course on the business end of concert touring at Columbia College in Chicago and Millikin University in Decatur, IL.
Pigface toured in 1991 with Trent Reznor providing guest vocals at a handful of dates. The Pigface song "Suck" was co-written with Reznor and later recorded by Nine Inch Nails for the Broken EP. Atkins can be seen in the "Head Like A Hole" music video and played drums on the song "Wish."
Atkins was originally considered for NIN's drummer on the Lollapalooza Tour:
Before Lollapalooza, I asked Martin if he'd play drums with us. He claimed he did. He'd been doing Killing Joke at the time and he showed up one week before Lollapalooza and we were nowhere close to being ready. So two days before the first gig, I had to tell Martin we were calling another drummer, because we suck. You're not ready, we're not ready, we need more time to rehearse. I said to him, I want you to know that I'm not going to bad mouth you because I think you're a great drummer. We just didn't have time to get it together. Within a week I'm hearing all this bullshit about me firing him. I confronted him but it's all drunken excuses.[1]
Body Of Work
Coming soon.