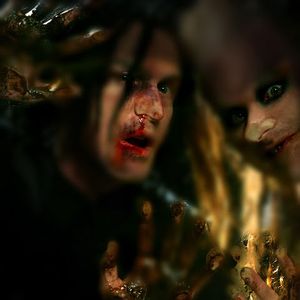 Skinny Puppy is a notable industrial band from Vancouver, Canada. The band formed in early 1982 and has risen as a pioneering force in industrial music, combining the ferocity of punk with the experimentation, noise, and theatrics of the budding electronic movement. The band split after the grueling recording of The Process but reformed in 2000. The band announced that its 2023 tour would be its last.
Some of the very first Nine Inch Nails shows were opening slots for Skinny Puppy along select VIVIsectVI tour dates in 1988 and featured material from Pretty Hate Machine and Purest Feeling. Trent Reznor has claimed his "first song" "Down In It" is a "total rip-off" of Skinny Puppy's 1986 single "Dig It" in a radio interview. The two do bear a bit of resemblance.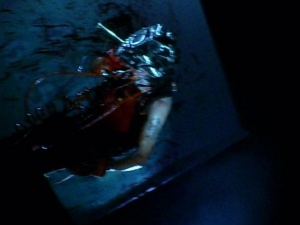 Skinny Puppy's vocalist/front-man Nivek Ogre has performed live on stage alongside Reznor in the band Pigface, most notably sharing a duet of the song "Suck" which was recorded on video. In 2005, Ogre sang the song "Supernaut," often attributed to Reznor, with the band Ministry at a live show in New York City. Rumors exist that Ogre and Reznor have met socially in recent times, but it is unlikely to expect any collaboration.
Trent Reznor has also worked extensively with Dave "Rave" Ogilvie, a one-time permanent fixture in Skinny Puppy as producer and band member.
On August 10, 2007, Skinny Puppy was featured on nin.com in a photograph taken by Trent Reznor at the Sziget Festival in Budapest, Hungary.
Band Members
Nivek Ogre
cEvin Key
Dwayne Goettel (through 1995)
Dave "Rave" Ogilvie: producer, associate (through 1995)
Mark Walk (2003–present)
Justin Bennett (2004-present)
William Morrison (2004)
Guests and Collaborators
Bill Leeb (1985–1986, under the pseudonym Wilhelm Schroeder)
Al Jourgensen (1989)
Genesis P-Orridge (1995, 2002)
Body Of Work
Studio Albums
Back and Forth (1984)
Bites (1985)
Mind: The Perpetual Intercourse (1986)
Cleanse Fold and Manipulate (1987)
VIVIsectVI (1988)
Rabies (1989)
Too Dark Park (1990)
Last Rights (1992)
The Process (1996)
Puppy Gristle (2002)
The Greater Wrong of the Right (2004)
Mythmaker (2007)
hanDover (2011)
Weapon (2013)
EPs
Remission (1984)
Chainsaw (1987)
Singles
Dig It (1986)
Stairs and Flowers (1987)
Addiction (1987)
Censor (1988)
Testure (1989)
Tin Omen (1989)
Worlock (1990)
Tormentor (1990)
Spasmolytic (1991)
Inquisition (1992)
Candle (1996) promo only
Track 10 (2000)
Politikil (2007) promo only
Live Albums
Ain't It Dead Yet? (1987)
Doomsday: Back and Forth Series 5: Live in Dresden (2001)
Bootlegged, Broke And In Solvent Seas (2012)
Collections
Bites and Remission (1987)
Remission and Bites (1987)
Twelve Inch Anthology (1990)
Back and Forth Series 2 (1992)
Brap: Back and Forth Series 3 & 4 (1996)
remix dystemper (1998)
The Singles Collect (1999)
The B-Sides Collect (1999)
Puppy Gristle (2002)
Back and Forth Series 6 (2003)
Back and Forth Series 7 (2007)
External Links