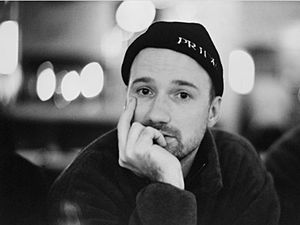 David Andrew Leo Fincher (born August 28, 1962) is an American film and music video director who has worked with Trent Reznor and Nine Inch Nails. He is most well-known for films such as Fight Club, The Social Network and The Girl With The Dragon Tattoo.
Biography
Fincher was born in Colorado and soon began making films as a child, using a Super 8 camera. He was self-taught and eventually became a tech for Industrial Light & Magic in the early eighties and worked on several high-profile productions, such as Indiana Jones And The Temple Of Doom. He also directed commercials during this time and eventually moved on to music videos. He has directed promos for artists such as Madonna, Aerosmith and The Rolling Stones.
In the early nineties, Fincher began to direct feature films, starting with Alien 3 and Seven, though his perceived failure on Alien 3 caused him to once again focus on music videos. One of his greatest accomplishments came with the cult following and belated yet fervent critical acclaim for Fight Club. He went on to direct films such as Panic Room, Zodiac, The Curious Case of Benjamin Button, The Social Network and The Girl With The Dragon Tattoo.
Work with NIN/Reznor
Fincher recruited Trent Reznor and Atticus Ross to create the score for his 2010 film, The Social Network as well as the score for his 2011 film, The Girl With The Dragon Tattoo. They will also be providing the score for his upcoming film Gone Girl.
Nine Inch Nails also tapped Fincher to direct the music video for "Only" in 2005.
NIN's "Closer (Precursor Mix)" was used in the opening credits of Fincher's 1995 film, Seven.
External Links