The Social Network Soundtrack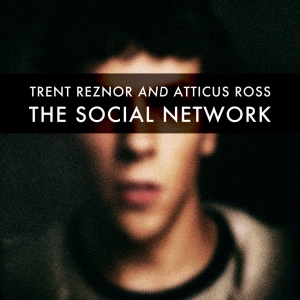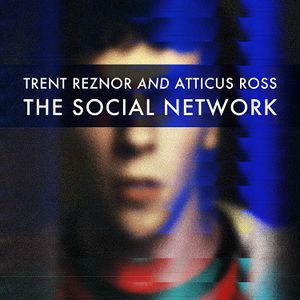 The Social Network Soundtrack, released on September 28, 2010, was scored by Trent Reznor and Atticus Ross for the David Fincher film The Social Network, based on the popular social networking site Facebook. It was the first release from The Null Corporation to be marked with a Null number, being Null 01.
The score garnered many awards, most notably Best Original Score at both the Academy Awards and the Golden Globe Awards. This is the first soundtrack that Reznor and Ross have worked on together, and one of several for David Fincher.
Tracklisting
CD/Blu-ray Audio
12" Vinyl
     A1  "Hand Covers Bruise" - 4:18
     A2  "In Motion" - 4:56
     A3  "A Familiar Taste" - 3:35
     A4  "It Catches Up With You" - 1:39
     A5  "Intriguing Possibilities" - 4:24

     B1  "Painted Sun In Abstract" - 3:29
     B2  "3:14 Every Night" - 4:03
     B3  "Pieces Form The Whole" - 4:16
     B4  "Carbon Prevails" - 3:53
     B5  "Eventually We Find Our Way" - 4:17

     C1  "Penetration" - 1:14
     C2  "In The Hall Of The Mountain King" - 2:21
     C3  "On We March" - 4:14
     C4  "Magnetic" - 2:10

     D1  "Almost Home" - 3:33
     D2  "Hand Covers Bruise, Reprise" - 1:52
     D3  "Complication With Optimistic Outcome" - 3:19
     D4  "The Gentle Hum Of Anxiety" - 3:53
     D5  "Soft Trees Break The Fall" - 4:44
Release
The first track from the soundtrack, "Hand Covers Bruise (No Piano)" debuted on The Social Network's website on August 30, 2010, streaming in the background. The album was released by The Null Corporation and distributed by Sony Music.
A 5-track sampler for the album was released September 17, on The Null Corporation's homepage.
The album was released digitally on September 28, exclusively on Amazon.com, and was made available in three physical formats: CD, Blu-Ray audio, and Vinyl; released on October 11, 18, and 25, respectively. The Blu-ray contains a high-resolution 5.1 surround mix and a stereo mix.
10th Anniversary Editions
A vinyl reissue, billed as a Definitive Edition, was announced on September 16, 2020, along with the release of the Quake Soundtrack vinyl.[1] A new surround mix in Dolby Atmos format was announced on October 2, 2020[2], and released on major streaming services. The announcement mentioned a possible physical media release of the Dolby Atmos mix on Ultra HD Blu-ray, but that never materialized.
Trent Reznor's Statements
It was announced that Reznor and Ross were taking part in the soundtrack on nin.com on July 1st, 2010:
I was planning on taking some time off after the continual waves of touring that ended last fall and spend this year experimenting around with what would become How To Destroy Angels and some new NIN. Well, that plan didn't work out so well. David Fincher started inquiring about my interest in scoring his upcoming film, The Social Network. Yeah, the movie about the founding of Facebook. I've always loved David's work but quite honestly I wondered what would draw him to tell that story. When I actually read the script and realized what he was up to, I said goodbye to that free time I had planned. Atticus Ross and I have been on a creative roll so I asked him if he wanted to work on this with me and we signed on.

Months later, I'm happy to tell you we're nearing the completion of this and I couldn't be happier with how it's turned out. The level of excellence that David operates on is inspiring and the entire process has been challenging and truly enjoyable.

As Atticus and I near the end of the scoring process, we're looking forward to the next phase - distilling the large amount of music we've written for this down to a satisfying record (or two). The film opens Oct 1 in the US with the record likely available a couple of weeks ahead of that.

Speaking of the film... it's really fucking good. And dark!



-Trent Reznor
Later, on the site, Reznor posted about the release:
This is what Atticus and I have been working on for the last few months. We had a great time working with David Fincher on this and the film turned out excellent - something we're very proud of. It opens in theaters Oct 1 and you should check it out.

Musically, this all came out of our secret laboratory - electronic in basis, but mostly organic sounding. Lots of experiments and emphasis on sound fraying around the edges while focusing on the proper emotional tone for the various scenes.

Regarding the purchase options, sorry about the "clunkiness" of not offering the full record digital download pre-sale (and having to visit Amazon). My agenda was to be able to offer this for the lowest possible price and this was the best way to achieve that. Amazon has been a great partner with past projects and I appreciate your understanding.

- Trent Reznor, 9.16.10
Promotion & Samplers
On the album's official Facebook page, a promotion for the movie was created on September 22nd, offering fans the chance to remix "On We March" and "In Motion", to win a chance to meet Ross and Reznor in Los Angeles, along with a seat at the film's premiere. The winning entries were "In Motion (A Few Enemies Rmx V2)" by Estevancarlos [3] and "On We March (Incept/Except)" by by jcworsley [4]. Although they said they would try to find other opportunities for people's remixes down the road, nothing further was announced for them. [5]
Download Sampler
"Pieces Form The Whole" - 4:25
"Eventually We Find Our Way" - 4:17
"On We March" - 4:17
"The Gentle Hum Of Anxiety" - 3:51
"Soft Trees Break The Fall" - 4:39
Award Sampler
A sampler was released for consideration by awarding bodies. It contains the eligible music score as it appears in the film, which means that the songs are edited as compared to the full album versions, and may contain slightly different elements or takes of the music. As is typical for film scores, the cue titles given are descriptive of the action on the screen. The corresponding soundtrack song that the cue is derived from is provided in the tracklisting below. It contains one score cue which does not appear on the soundtrack release.
"Main Title Sequence" - 3:31 - "Hand Covers Bruise"
"Let the Hacking Begin" - 3:15 - "In Motion"
"Cocksucker" - 1:40 - "It Catches Up With You"
"In Evidence" - 4:07 - "Intriguing Possibilities"
"Does She Have a Boyfriend?"' - 2:51 - "Painted Sun In Abstract"
"Zuckerberg Stole Our Website" - 0:47 - "3:14 Every Night"
"Family of Means" - 1:59 - "Pieces Form The Whole"
"What Are We Doing About This?" - 1:56 - "Hand Covers Bruise, Reprise"
"Bathroom Sex" - 3:04 - "Eventually We Find Our Way"
"Violation of Harvard Law" - 0:46 - "3:14 Every Night"
"Trip to N.Y." - 1:08 - "Penetration"
"Dinner With Sean" - 0:44
"Bank of America" - 1:19 - "Almost Home"
"Who's Eduardo Saverin?" - 0:40 - "3:14 Every Night"
"Fire in My Apartment" - 1:49 - "On We March"
"What Were the Shares Diluted Down to?" - 2:19 - "Hand Covers Bruise"
"Something's Happened" - 2:15 - "The Gentle Hum Of Anxiety"
"Soft Trees Break the Fall" - 4:34
Artwork
The album's art is by Rob Sheridan, based upon the designs used to promote the film, mixed with Sheridan's style of image distortion.[6][7][8][9] The glitch art that was used for the sampler was originally intended for the proper cover, and was restored for the 2020 vinyl Definitive Edition.[10] Sheridan wrote on his website about the process of creating the artwork:
For The Social Network soundtrack art, my goal was to walk the line between representing the film and creating something that stood as a piece of art on its own, much as the soundtrack itself does.

For the cover, I needed to represent the branding of the film, but neither Trent nor I wanted the photo of Jesse Eisenberg to be the cover as directly as it was in the film's poster. By blurring out the photo and placing the title text over Eisenberg's eyes, I was able to create a cover that evoked the film's branding while distancing itself from it at the same time. The style of fonts used in the film and its marketing were something Trent and I both really liked, so we preserved that for the soundtrack.

For the internal art, Sony gave me a batch of publicity stills from the film to utilize if I wanted. By their nature none of them were particularly artistic, and I wasn't sure how useful they'd be for the artwork. Trent expressed an interest in creating a package that could stand on its own whether or not listeners had seen the film. Given that we conceded a bit on the album cover, he said "let's make the inside packaging weird."

An early idea I had was to digitally corrupt the images we had from the film, combining a "glitch art" visual aesthetic I've always been interested in with a metaphor for digital images shared on Facebook, the corruption they're susceptible to, and the corruption portrayed in the film. This idea resonated with Trent, so I began experimenting with different ways to destroy the publicity stills Sony had sent me.

Whereas in previous projects (especially With Teeth and Year Zero) I'd used careful manual processes to create digital glitches, this time I actually destroyed images by opening them up in a text editor and adding/removing text to their raw code.

It was a very experimental, trial-and-error process - I tried different file types, different rendering methods (for example, damaged Photoshop files render much more interestingly in OSX's Preview than in Photoshop itself), and different types of text injected into the image files (I grabbed random paragraphs of text from around the web - ridiculous fan-fiction sites were a fun source). The results are what you see below - these images were distorted through manual editing of the image files in a text editor, not through intricate Photoshop work. [11]
Credits
Composed, arranged, performed, programmed and produced by Trent Reznor and Atticus Ross
Except as noted
In The Hall Of The Mountain King written by Edvard Greig
Arranged, performed, programmed and produced by Trent Reznor and Atticus Ross
Engineered by Blumpy
Mixed by Michael Patterson
Design: Rob Sheridan
Mastered by Tom Baker at Precision Mastering, CA
Executive Producer: David Fincher
Executive in charge of music for Columbia Pictures: Lia Vollack
Trent Reznor and Null management: Rebel Waltz Inc.
Atticus Ross management: First Artists Management
Special thanks to: Dana Brunetti, Shelly Bunge, David Byrnes, Valerie Caton, Cean Chaffin, Michael de Luca, Kim Davis, Brian and Leon Dewan, Paul Friedman, Randy Gertson, Don Kennedy, Paul Kremen, Ren Klyce, Doug Mark, Scott Rudin, Irina Volodarsky, Raul Perez, Angela Sidlow, and Kevin Spacey

"In Motion" is mislabeled as an "interpolation of 35 Ghosts IV" - the actual track is "A Familiar Taste"
Accolades
Nominated
San Diego Film Critics Society (SDFCS Award): Best Score
Washington D.C. Area Film Critics Association (WAFCA Award): Best Score
Houston Film Critics Society (HFCS Award): Best Original Score
International Press Academy (Satellite Award): Best Original Score
Chicago Film Critics Assoc. (CFCA Award): Best Original Score
Denver Film Critics Society (DFCS): Best Original Score
World Soundtrack Academy (WSA): Best Original Film Score
Won
Boston Society of Film Critics (BSFC Award): Best Use of Music in Film
Los Angeles Film Critics Association (LAFCA Award): Best Music/Score
Las Vegas Film Critics Society (Sierra Award): Best Score
Alliance of Women Film Journalists (EDA Awards): Best Film Music Or Score
Broadcast Film Critics Association (Critics Choice Award): Best Score
Hollywood Foreign Press Assoc. (Golden Globe-USA): Best Original Score
St. Louis Gateway Film Critics Association (SLFCA Award): Best Music (Soundtrack or Score)
Central Ohio Film Critics Association (COFC Award): Best Score - Won runner-up prize
American Academy of Motion Picture Arts and Sciences (Oscars): Music (Original Score)
Live Performance
Nine Inch Nails debuted "Hand Covers Bruise" live at the 2014/02/25 Tokyo, Japan show. It was the first time a track from the soundtrack had been played live, and only the second score piece to be played by the band. The song was then performed a few more times on the 2014 tour.
External Links