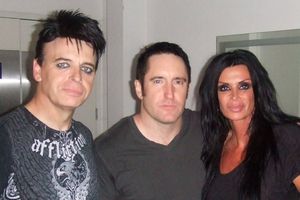 Gary Numan (born Gary Anthony James Webb on 8 March 1958) is an English singer, composer, and musician. He is considered to be one of the pioneers of commercial electronic music and has been described as the "King of synthpop". Numan is widely known for his chart-topping 1979 hits "Are 'Friends' Electric?" (with Tubeway Army) and "Cars". Numan's more recent output, however, from 1994's Sacrifice to 2021's Intruder, has been much darker and industrial in nature, incorporating haunting soundscapes with a lyrical tendency towards Atheism and a general anger towards organized religion.
Nine Inch Nails covered Numan's song "Metal" on the remix album Things Falling Apart (2000). Numan was a surprise guest during the last leg of the Wave Goodbye Tour, making appearances at the O2 Arena, the Hollywood Palladium, the Echoplex, the Henry Fonda Theater and the Wiltern Theater, performing guest vocals on "Down In The Park" from Tubeway Army's Replicas (1979), "Metal," "Cars," both from The Pleasure Principle (1979), and "I Die: You Die," from Telekon (1980). Trent Reznor posted two high-definition videos of Gary Numan playing "Metal" and "Cars" with the band at the O2 Arena on nin.com via the website vimeo.com. "Metal" can be found here and "Cars" here.
In an interview with The Quietus shortly after the 2009 dates, Numan stated that he and Reznor planned to make music together. Numan was also chosen as one of the openers for the Tension 2013 Tour, singing alongside Trent for "Reptile" at both Florida shows, along with his own song, "We Take Mystery (To Bed)". The latter is from the album I, Assassin, which was recorded with Tension 2013 bassist Pino Palladino. Numan made further guest appearances during the Europe + Asia 2018 and Cold And Black And Infinite tours.
Discography
Numan's complete discography can be found here.
Studio Albums
Tubeway Army (1978) (with Tubeway Army)
Replicas (1979) (with Tubeway Army)
The Pleasure Principle (1979) (Numan's first album under his own name)
Telekon (1980)
Dance (1981)
I, Assassin (1982)
Warriors (1983)
Berserker (1984)
The Fury (1985)
Strange Charm (1986)
Metal Rhythm (1988) (New Anger in the United States)
Automatic (1989) (With Bill Sharpe)
Outland (1991)
Machine + Soul (1992)
Sacrifice (1994) (Dawn in the United States)
Exile (1997)
Pure (2000)
Jagged (2006)
Dead Son Rising (2011)
Splinter (Songs From A Broken Mind) (2013)
Savage (Songs From A Broken World) (2017)
The Fallen EP (2018)
Intruder (2021)
External Links