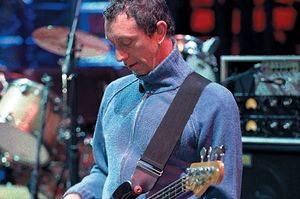 Pino Palladino (born October 17, 1957) is a Welsh bass player who has recorded and toured with artists such as the John Mayer Trio, Gary Numan and The Who. He was enlisted to play bass with Nine Inch Nails on the Tension 2013 Tour, taking over for Josh Eustis, who had played bass during the NIN 2013 Festival Tour. Eustis had been playing bass in place of Trent Reznor's original choice, Eric Avery. He also appears on the songs "Copy Of A", "Various Methods Of Escape", "All Time Low" and "While I'm Still Here" from Hesitation Marks. In 2021, he appeared on the Reznor and Atticus Ross-produced album If I Can't Have Love, I Want Power by Halsey.
Biography
Palladino was born in Cardiff, Wales and originally played guitar. He switched to bass as a teenager and began playing professionally by age 20. He soon worked with Jools Holland and Paul Young, and played fretless bass on I, Assassin by Gary Numan in 1982. This led to him playing fretless bass for many high profile artists like Peter Gabriel, David Gilmour and Don Henley.
During the 1990s, he alternated between fretless and fretted bass as well as between 4-string and 6-string bass. He played with artists like Melissa Etheridge, Elton John and Eric Clapton. His session playing then grew to include soul artists like D'Angelo, Common and Erykah Badu. He toured and recorded with The Who after the death of John Entwistle and later became a member of the John Mayer Trio.
Body of Work
Coming soon.