Versions:
Physical
Physical (Mass Consumption mix)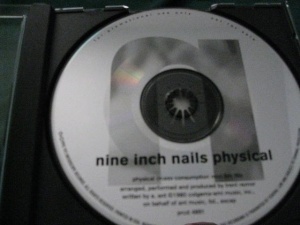 "Physical" is a hidden track on 1992's Broken EP that was originally written and performed by Adam and the Ants on their 1980 album Kings of the Wild Frontier.
When Broken was first released, this and another extra track, "Suck," were on a Mini CD that was packaged with the EP. But after allegations that some music stores were removing the mini CD and selling it separately, the two tracks were incorporated onto the EP as tracks 98 and 99, with tracks 7–97 consisting of one second of silence each.
Song Credits
Writing: Adam Ant
©1980 CBS Records, Inc.
Production: Trent Reznor
About
At the beginning (approx. 27 sec.) of the song, Trent Reznor can be heard saying, "Eat your heart out, Steve." This is possibly directed towards Steve Gottlieb of TVT Records with whom Reznor had been feuding, as Gottlieb would not let him out of his contract. The entirety of Broken was created without the knowledge of TVT. In the credits, "Barks and Roars" are attributed to Maise, Trent's dog at the time of recording. At 3:36, barking and "Ow! Fucker" is heard being played at half speed over the track, as Maise - then a puppy - was playing with Sean Beavan in the studio, and bit him. (One of the recording techniques employed on both "Suck" and "Physical" was to play the guitar riff at double the speed of the track, and play the resulting recording back at half speed, for a unique, extra thick sound.)
According to a previously unreleased interview Reznor did with Melody Maker magazine, "Physical" was supposed to be a "tongue-in-cheek" cover. It should be noted that the Adam and the Ants version is named "Physical (You're So)" and features an extra verse.
Appearances
Halos
Seeds
Versions
Physical
This is the original version found on the Broken EP. It begins with layers of ambience and feedback before erupting into a guitar- and drum-heavy first verse. The chorus introduces a new, chugging chord progression before returning to the power chords and riff of the second verse. A bridge after the second chorus leads to the climactic final chorus variation, which descends into more feedback and whispering.
Physical (Mass Consumption mix)
Running Time: 5:16
A mix only found on radio promos released in the US.
Live
This track was rarely played live post-1993, but resurfaced on the Wave Goodbye Tour and the Cold And Black And Infinite Tour. In 1995, Nine Inch Nails performed this song live with Adam Ant for two nights in a row in New York City. After Reznor introduced Adam Ant and Marco Pirroni on the second night, Adam Ant proclaimed to the audience, "It's nice to be on stage with the best fucking band in the world."
Lyrics
    I want to date you maybe
    I want to take you out
    I want to wine and dine you
    I want to twist and twist and shout
    I want you hard in my arms
    So soft on my bed
    You get the key to my heart
    When you wear that sweet dress
    
    But you're too physical, physical, for me
    You're just too physical, physical, to me
    
    I want your roughhouse baby
    I want this right in your ear
    You let me feel your danger
    I let you make this feeling clear, here
    I want the touch of your charms
    The heat of your breath
    I want to say all those things
    That would be better unsaid