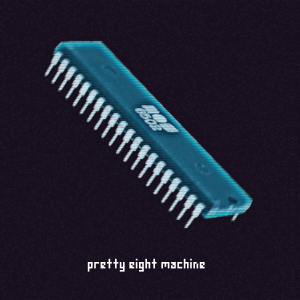 Pretty Eight Machine is a Nine Inch Nails tribute album of all songs from the Pretty Hate Machine album, reproduced by old computers and game consoles. It was recorded and released by chiptune musician Inverse Phase. The tribute was originally released June 14, 2012 for download on Bandcamp.[1] The system represented by each track is listed next to the title.
Track Listing
Special Edition
A Special Edition was released on June 1, 2014. The bonus tracks were released as a form of "upgrade EP" via Bandcamp, and a cohesive album was planned via Google Play, iTunes, and Loudr. With the new tracks, the grand total of system configurations was 11. A digital booklet for this edition is included with the album download from bandcamp, but can also be downloaded here. The following tracks were included:
"Now I'm Null(thing), InSIDious Lie" (Commodore 64)
"Something Else You Never Had" (MSX with no expansions)
"Purest Beeping" (Sega Genesis/Mega Drive)
"Maybe Just Ones (and zeroes)" (Atari 800)
"Get Pong, Breakout" (combination Nintendo Entertainment System and Atari 2600)
Shortly after the Special Edition release, it was discovered that licensing, which was successful for most of the album, was not possible for "Now I'm Nothing", "Purest Feeling" and "Maybe Just Once". Those tracks were removed shortly thereafter, and "InSIDious Lie", "Something Else You Never Had" and "Get Pong, Breakout" were appended to the end of the regular edition release on Bandcamp (and remained on the other platform releases).
External Links