Versions:
In This Twilight
In This Twilight (Instrumental)
In This Twilight: Fennesz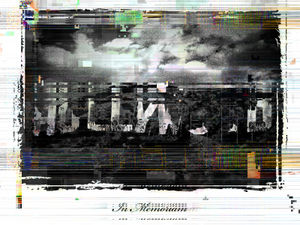 "In This Twilight" is the fifteenth track on the 2007 release Year Zero.
Leak
On February 25, 2007, at 13:18 the following was added to theninhotline.net:
Text messages have been received from the barrier at the Manchester show, citing the discovery of a USB pen. It's been handed to a girl called Elizabeth, who should be uploading the contents 'soon.' Stay tuned.
The song leaked at approximately 5:30 PM (PST) on the Echoing The Sound forums.
Miscellaneous
It was rumored that http://www.inthistwilight.com/ was registered as one of the sites promoting the release of the Year Zero album. This rumor has been confirmed as false.
The picture that came with the leak of this song lead to the website Hollywood in Memoriam.
The lyrics "all the black is really white" may be a reference to the effect Opal has when droplets of it hit the eye
Appearances
Halos
Other
Versions
In This Twilight
This is the original album version. Its chorus features a bass guitar through a guitar amp with the gain and volume of the amp turned up very loud. Trent Reznor's vocals are somewhat further back in the mix to highlight the haunting aspect of the song's instrumental parts.
In This Twilight (Instrumental)
Running Time: 3:40
This unmastered vocal-less mix was released by Reznor through his remix.nin.com account.
In This Twilight: Fennesz
Running Time: 4:37
This remix is heard on Y34RZ3R0R3M1X3D. It begins with a droning synth under which the vocals are added. These synth noises dominate the mix, almost drowning out the original melody and vocals. By the second verse, a swirling guitar is heard under the vocals rather than the original melody. The second chorus is repeated in the second half of the song as more sound elements are added over it. As the chorus ends, some sound elements drop out, leaving a melody and a droning sound to end the song.
Song Credits
Live
"In This Twilight" made its live debut on July 26, 2008. It was the final encore and set closer on 2008's Lights In The Sky Tour and the band members left the stage one by one. It was also the very last song played at the 2009/09/10 Los Angeles, CA Wiltern Theatre show, the final show in the Wave Goodbye Tour. During the Tension 2013 Tour, this song featured backing vocals by Lisa Fischer and Sharlotte Gibson.
On December 14, 2018, Mike Garson joined the band to perform the song live as a reworked version.
Lyrics
    Watch the sun
    As it crawls across a final time
    And it feels like
    Like it was a friend
    If it's watching us
    And the world we set on fire
    Do you wonder
    If it feels the same?
    
    And the sky is filled with light
    Can you see it?
    All the black is really white
    If you believe it
    As the time is running out
    Let me take away your doubt
    We can find a better place     
    In this twilight
    
    Dust to dust
    Ashes in your hair remind me     
    What it feels like
    And I won't feel again
    Night descends
    Could I have been a better person?
    If I could only
    Do it all again
    
    But the sky is filled with light
    Can you see it?
    All the black is really white
    If you believe it
    And the longing that you feel
    You know none of this is real
    We will find a better place
    In this twilight