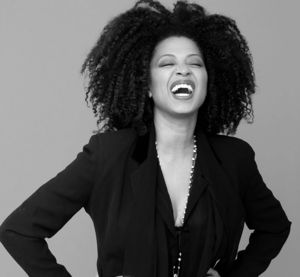 Instruments:
Backing Vocals
Lisa Melonie Fischer (born December 1, 1958) is an American vocalist and songwriter who has recorded and toured with artists such as The Rolling Stones, Tina Turner and Luther Vandross. She was hired, along with Sharlotte Gibson, to sing backing vocals for Nine Inch Nails on the Tension 2013 Tour.
Biography
Fischer was born in Brooklyn, New York and released (under the name Xēna) her first recording in 1983, a single called "On The Upside". She also began doing backing vocals and session vocals during this time. She released her only album, So Intense, in 1991 but went back to doing backing vocals as she enjoyed it more.
She has toured and recorded steadily with The Rolling Stones since 1989 and was also working with Luther Vandross at the time. She later began to tour with Tina Turner and also began writing songs for other artists. She recorded with Sting in 2009 and toured with Chris Botti in 2010. She appears in the backing vocalists documentary Twenty Feet From Stardom.
NIN backing vocals
The following songs featured Fischer and Gibson.
External Links