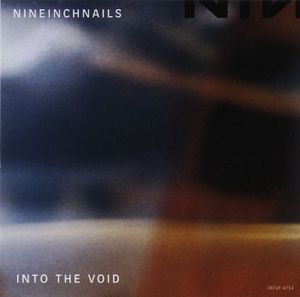 Into The Void is a single released exclusively in Australia containing the track "Into The Void" to promote the album The Fragile. No halo number was assigned to this release, making it one of the only commercially-available Nine Inch Nails releases, along with Capital G, with that distinction. Due to its rarity, Into The Void is considered a prized item for NIN memorabilia collectors.
A two-track promotional CD for "Into The Void" was also released in the United States though it was incorrectly labeled as Halo 16.
The version of "The Perfect Drug" included on this single is slightly longer than the one released on the Lost Highway soundtrack. It fades out at the end instead of ending abruptly.
Track listing
"Into The Void" - 4:52
"We're In This Together" - 7:18
"The Perfect Drug" - 5:43
"The New Flesh" - 3:40
Album Credits
Writing and performance: Trent Reznor
Production: Trent Reznor and Alan Moulder
Management: John A. Malm, Jr. for Conservative
Engineering and mix: Alan Moulder
©1999 Leaving Hope Music/TVT Music (ASCAP) administered by Leaving Hope Music Inc.
Design + Photography: David Carson
Track 3 written and performed by Nine Inch Nails; ©1996 Leaving Hope Music/TVT Music (ASCAP) administered by Leaving Hope Music Inc., D. Lohner/Wish it Away (ASCAP), C. Clouser/Hypercube Music/Warner-Tamerlane Music (BMI), C.Vrenna.; Produced by: Trent Reznor; Mixed by: Alan Moulder; Engineered by: Dave "Rave" Ogilvie; Assisted by: Brian Pollack
Track 1 backing vocals: Kim Prevost; Drum Programming: Charlie Clouser
Track 2 Drum Chorus: Jerome Dillon
Promos
US (Halo 16)
CD5 format with green disc face and black lettering. Jewel case features full-color artwork.
"Into The Void" (Edit) - 4:08
"Into The Void" (LP Version) - 4:49
Releases
Universal Music 497 224-2 - CD