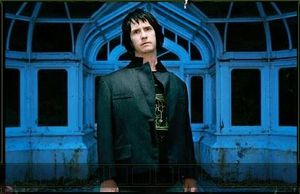 Dave "Rave" Ogilvie is a Canadian-born musician and producer who has collaborated with Trent Reznor throughout his career. He has been associated with many bands in the industrial rock genre, most prominently Skinny Puppy.
NIN Credits
Engineer
Rave is credited for engineering on several releases:
NIN Remixes
Ogilvie contributed "Starfuckers, Inc. (version)" to Things Falling Apart and a remix of "Reptile" for March Of The Pigs.
Other NIN Credits
Ogilvie was also thanked in the liner notes for With Teeth.
Other Work
54-50
Ogilvie is credited as producer on many releases by the Canadian alternative rock band 54-40.
David Bowie
He is credited, alongside the full touring lineup of Nine Inch Nails, for remixes on David Bowie's single for "I'm Afraid Of Americans."
Jakalope
Jakalope is a musical project formed by Rave; Reznor has a guest producer credit on Jakalope's debut album.
Marilyn Manson
Rave is credited for producing and engineering several Marilyn Manson releases.
Skinny Puppy
He has produced many releases from Skinny Puppy, serving as producer on every album release from "Remission" (1984) through "The Process (1996), and was once a full member of the band.
Tool
Dave Ogilvie remixed the songs "Stinkfist" and "Forty-Six & 2" by Tool. These tracks have yet to see an official release.