Natural Born Killers Soundtrack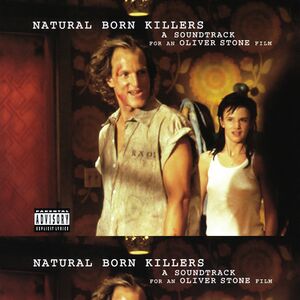 Natural Born Killers is the soundtrack to the Oliver Stone film of the same name, and was released by Interscope Records on August 23, 1994. Produced by Trent Reznor, it features three Nine Inch Nails songs, the first of which was newly recorded for the soundtrack. Tracks 10, 13, 18, 23 and 25 are assembled from various recordings from the film.
Reznor became involved when Stone approached him for permission to use a NIN song in the film and, upon seeing the film in a private screening, Reznor had the idea to create a uniquely sequenced soundtrack that was more a collage than a traditional group of songs.[1]
A 25th anniversary edition on green vinyl was released in 2019.
Track Listing
"Waiting For The Miracle" (Edit) (Leonard Cohen) - 3:43
"Shitlist" (L7) - 2:48
"Moon Over Greene County" (Edit) (Dan Zanes) - 2:19
"Rock 'N' Roll Nigger" (Flood Remix) (Patti Smith) - 4:00
"Sweet Jane" (Edit) (Cowboy Junkies) - 3:23
"You Belong To Me" (Bob Dylan) - 3:09
"The Trembler" (Edit) (Duane Eddy) - 1:10
"Burn" (Nine Inch Nails) - 5:00
"Route 666" (BB Tone Brian Berdan) - 0:56
"Totally Hot" (Remmy Ingala & Orchestre Super Matimila) - 0:47
"Back In Baby's Arms" (Patsy Cline) - 2:04
"Taboo" (Edit) (Peter Gabriel And Nusrat Fateh Ali Khan) - 4:22
"Sex Is Violent" (Trent Reznor, Jane's Addiction & Diamanda Galas) - 4:58
"History (Repeats Itself)" (Edit) (A.O.S.) - 2:21
"Something I Can Never Have" (Edited And Extended) (Nine Inch Nails) - 4:04
"I Will Take You Home" (Russel Means) - 2:18
"Drums A Go-Go" (Edit) (The Hollywood Persuaders) - 1:10
"Hungry Ants" (Barry Adamson) - 3:12
"The Day The Niggaz Took Over" (Dr. Dre) - 4:33
"Born Bad" (Juliette Lewis) - 0:42
"Fall Of The Rebel Angels" (Edit) (Sergio Cervetti) - 1:21
"Forkboy" (Lard) - 3:54
"Batonga In Batongaville" (Budapest Philharmonic Orchestra) - 1:04
"A Warm Place" (Nine Inch Nails) - 2:58
"Allah, Mohammed, Char, Yaar" (Nusrat Fateh Ali Khan) - 1:08
"The Future" (Edit) (Leonard Cohen) - 3:49
"What Would U Do?" (Tha Dogg Pound) - 4:12
The UK limited edition double 12" vinyl splits the tracklist after tracks 6, 13 and 20, while the US and international cassette versions split after 13.
Credits
Produced, conceived and assembled by: Trent Reznor
Computer editing / manipulation by: Charlie Clouser and Trent Reznor
Assisted by: Chris Vrenna and Leo Herrera
Assembled at: South Beach Studios, Miami Beach
Executive Soundtrack Album Producer: Budd Carr
Soundtrack Director: Oliver Stone
Associate music supervisor: Sylvia Nestor
Music coordinator: Amy Dunn
Executive in charge of music for Warner Bros: Gary Lemel
Executive in charge of music for Regency: Mitchell Lieb
Executive in charge of music for Nothing: John A. Malm, Jr.
Publicity: Sioux Z for Formula
Sound effects: courtesy of Soundelux
Contributing film personnel:
Film editors: Hank Corwin and Brian Berdan
Music editors: Alex Gibson and Carl Kaller, Assisted by Denise Okimoto
Supervising dialogue editor: Dan Ric
Supervising sound editors: Michael Wilhoit and Wylie Statemen
Post-production supervisor: Bill Brown
Controller: Barbara Ann Stein
Soundtrack legal counsel: Marc Diener
Wolf image: courtesy of Petrified Films
Package: Gary Talpas
External Links