"Burn" is a song initially written for the Natural Born Killers Soundtrack, which was produced by Trent Reznor. It is a very intense track containing lyrics with anti-social and angry themes.
Song Credits
Produced and engineered by Trent Reznor
Assisted by Leo Herrera
Recorded at South Beach Studios
Additional drums by Chris Vrenna
Appearances
Halos
Seeds
Soundtracks
Video Games
Rock Band video game (available for download)
Other
Burn promotional single for the song
Versions
Burn
The original album version is on both the Natural Born Killers soundtrack and the Deluxe Edition of The Downward Spiral. Similar in tone and structure to "Closer To God," the verse and chorus sections of the song are then mediated by a fast, guitar-driven bridge that occurs both in the middle and at the end of the song. Both the verses and choruses are sung through a vocal distortion effect. The drum loops at the end fade out, allowing the layers of noisy distorted guitar to repeat until suddenly cutting off.
Burn (Beside You In Time)
The live version found on Beside You In Time and played throughout the With Teeth Arena Tour uses a new set of percussion loops, manipulated live by Alessandro Cortini before the verse drum rhythm joins in. Its guitar-only ending segues directly into "Gave Up."
Music Video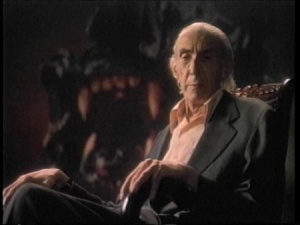 The music video for "Burn" is similar to the various screen projections used throughout Nine Inch Nails tours. Directed by Hank Corwin and Reznor, it features images of people, nature, and general destruction and decay interspersed with images from the film and Reznor singing. The video incorporates clips from Natural Born Killers and is filmed in such a way that the video mimics the film. According to IMDB.com, the Natural Born Killers clips are actually footage that was cut from the film.
Live
This song made its live debut on August 11, 1994 and has become a staple of the live performances for years, though it has been played differently throughout the various live lineup changes. During the Self Destruct Tour, it was played like the album version, including distorted vocals. During the With Teeth era, it featured more radical changes: the percussive loops were heavily manipulated by Alessandro Cortini on a custom Kaoss pad, and the synth line was played by Jeordie White on bass. During the Wave Goodbye Tour, the regular album loops were manipulated by Reznor before the rest of the band kicked in. As well, the synth line was played by Justin Meldal-Johnsen on keyboards once again. During the Tension 2013 Tour, this song featured backing vocals by Lisa Fischer and Sharlotte Gibson.
Lyrics
    This world rejects me
    This world threw me away
    This world never gave me a chance
    This world gonna have to pay
    
    Well I don't believe in your institutions
    I did what you wanted me to
    And like the cancer in your system
    I've got a little surprise for you
    
    Something inside of me
    Has opened up its eyes
    Why did you put it there?
    Did you not realize?
    This thing inside of me
    It screams the loudest sound
    Sometimes I think I could
    
    Burn
    
    I look down at where you're standing
    Flock of sheep all on display
    With all your lies propped up around you
    I can take it all away
    
    Something inside of me
    Has opened up its eyes
    Why did you put it there?
    Did you not realize?
    This thing inside of me
    It screams the loudest sound
    Sometimes I think I could
    
    I'm gonna burn this whole world down
    
    I never was a part of you
    
    I am your savior
    I am corruption
    I am the angel
    Of your destruction
    I am perversion
    Secret desire
    I am your future
    Swallowed up in fire

External Links
Article "Happiness is Slavery," with details of the Natural Born Killers soundtrack creation