Versions:
Copy Of A
Copy Of A (Instrumental)
Copy Of A (Radio Edit)
Copy Of A (Simian Mobile Disco Remix)
Copy Of A (Live 2013 EP)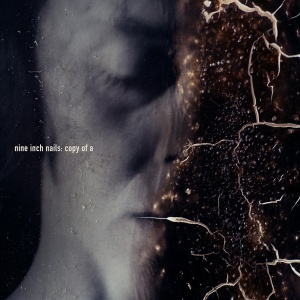 "Copy Of A" is the second track on the 2013 release Hesitation Marks. On August 12, 2013, Amazon UK officially made the track available as a free digital single. It was also released on Amazon US the following day, although as of August 20, 2013, it is no longer free. Those who pre-ordered the album through nin.com were given access to a FLAC download of the track simultaneously. A two-track promotional CD acetate was also released. The artwork for the MP3/CD is a portion of the vinyl cover art for Hesitation Marks.
Song Credits
Appearances
Halos
Seeds
Other
Versions
Copy Of A
This is the original album version. Opening with a wavering synth line, a simple drum loop sweeps in the first verse. Various percussion loops complicate the arrangement throughout, layering and falling away as the song structure changes parts. Prominent use of vocal looping personifies the title of the track, with the repeating words in the lyrics restarting in time with the song. The chorus is marked by a mellow organ pad.
Copy Of A (Instrumental)
Exclusive to an internal Columbia Records promo released under the name "Taxi Driver".[1]
Copy Of A (Radio Edit)
Running Time: 4:22
Coming soon.
Copy Of A (Simian Mobile Disco Remix)
Running Time: 8:22
Exclusive to the Remix 2014 EP from Beats Music.
Copy Of A (Live 2013 EP)
Recorded live at Fuji Rock Festival 2013.
Live
This song debuted live on the first night of the NIN 2013 Festival Tour, and was played live at almost every show of the Hesitation Marks touring cycle. During the Tension 2013 Tour, this song was usually the first song in the set. When it was played later in the show, it featured backing vocals by Lisa Fischer and Sharlotte Gibson.
"Copy Of A" was played at most shows on the I Can't Seem To Wake Up 2017 and Europe + Asia 2018 tours, and about half of the Cold And Black And Infinite Tour.
Lyrics
   I am just a copy of a copy of a copy
   Everything I say has come before
   Assembled into something into something into something
   I don't know for certain anymore
   I am just a shadow of a shadow of a shadow
   Always trying to catch up with myself
   I am just an echo of an echo of an echo
   Listening to someone's cry for help
   
   Look what you had to start
   Why all the change of heart?
   You need to play your part
   A copy of a copy of a
   Now look what you've gone and done
   Well that doesn't sound like fun
   See I'm not the only one
   Copy of a copy of a
   
   I am little pieces little pieces little pieces
   Pieces that we picked up on the way
   Imprinted with a purpose with a purpose with a purpose
   A purpose that's become quite clear today
   
   I am just a finger on a trigger on a finger
   Doing everything I'm told to do
   Always my intention my intention your attention
   Doing everything you tell me to
   
   Look what you had to start
   Why all the change of heart?
   You need to play your part
   A copy of a copy of a
   Now look what you've gone and done
   Well that doesn't sound like fun
   See I'm not the only one
   Copy of a copy of a